A-10A -DISTANT THUNDER-
Talk

0
1,896pages on
this wiki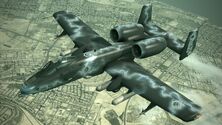 The
A-10A -DISTANT THUNDER-
is a downloadable paint scheme in
Ace Combat 6: Fires of Liberation
. It was released in June 26th 2008 with Pack 09, at the cost of ¤200 MSP.
The Distant Thunder aircraft is an homage to an ace pilot of the same name featured in Ace Combat 5: The Unsung War, piloting a YA-10B in "Heartbreak One"; in turn, the pilot's callsign and paint scheme are a reference to Ace Combat 04: Shattered Skies, known as "Ace Combat: Distant Thunder" in Europe.
In performance, the aircraft is different from the basic Thunderbolt II. Armor has been weakened in exchange for upgraded mobility, top speed and air-to-air capabilities, allowing it to engage in dogfights with ease. Weapons payload has been upgraded slightly.