AC-130 Spectre
Talk

0
1,779pages on
this wiki
For the upgraded variation introduced in Ace Combat: Assault Horizon, see the article "AC-130U Spooky".
The
AC-130 Spectre
is an armed gunship manufactured by
Lockheed Martin
in conjunction with Boeing IDS. A combat-oriented version of the
C-130 Hercules
transport, it is designed to bombard ground targets with a variety of heavy ordnance.
Ace Combat 5: The Unsung War
Edit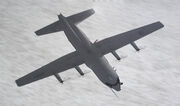 In
Ace Combat 5: The Unsung War
, the AC-130 Spectre is a ground attack aircraft used by the
Yuktobanian
military.
In the mission "Desert Arrow", two AC-130s appear in the proximity of the allied Viking Squadron as they make their way to the enemy headquarters. Another two to three units are featured in "Heartbreak One", where they attempt to attack Jack Bartlett's escaping convoy. In-game, it is identified simply as "AC-130".
The Spectre is classified as a heavy aircraft, meaning that it can endure three missile impacts before being destroyed. As well, it will occasionally fire its weapons at the player, and while this is very uncommon, their shots are very lethal especially on the higher difficulties, as the plane's weapons have more or less the same power as an AA emplacement or an enemy fighter's guns.
Ace Combat 6: Fires of Liberation
Edit
AC-130
Type(s)

Gunship

Statistics

Defense: High

Users
In Ace Combat 6: Fires of Liberation, the AC-130 is a gunship operated by the Estovakian Air Force.
A pair of gunships are seen attacking Emmerian ground forces in Ortara Airport in the mission "Anea Landing". Later on, a third Spectre is featured in the mission "The Moloch Desert", in which it conducts attacks on an Emmerian ground battalion invading an airport south of the map.
In gameplay, the AC-130 is a gunship, meaning that it is completely defenseless against aerial attacks. Its main strength lies in its armor, which provides it with higher than average defense.
Armaments
Edit
2x 20mm M61 Vulcan cannon
1x 40mm (1.58 in) L/60 Bofors cannon
1x 105mm (4.13 in) M102 Howitzer
Statistics
Edit
Performance
Edit
Maximum speed: 260 knots (300 mph, 480 km/h)
Range: 2200 nm (2530 mi, 4070 km)
Service ceiling:30,000 feet (9,100 m)
References
Edit