AWACS Sky Eye
Talk

0
1,779pages on
this wiki
"Heroes really do exist. We've just seen one, and now he's coming home."
―AWACS Sky Eye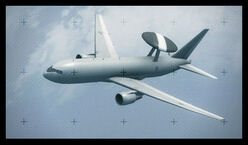 AWACS Sky Eye was the callsign of an Airborne Warning and Control System unit of the Independent State Allied Forces (ISAF).
During the ISAF's evacuation from the Usean mainland to North Point in September 2004, he was assigned as the AWACS of the newly formed 118th Tactical Fighter Wing "Mobius". He first flew with the Mobius unit on September 19th, his birthday, during the Erusian bombing attack on North Point.
Ever since the attack, Sky Eye became permanently attached to the Mobius unit, following Mobius One in many operations against the Erusian military in the course of the war, such as the amphibious landing on the Usean mainland and the siege of Farbanti, which occurred exactly a year after his first mission with the squadron (in both missions, he stated that a victory in the respective engagements would be "a nice birthday gift"). Though rarely seen physically, he followed the new Mobius Squadron closely during the assault on Megalith.
In 2006, he worked with Mobius One once more during Operation Katina, following him in his mission to suppress the "Free Erusea" uprising.