Ace Combat (エースコンバット Ēsu Konbatto; often stylized as ACE COMBAT) is a franchise of arcade flight simulation video games, created and owned by Bandai Namco Entertainment since 1995. The games typically feature actual planes from real-life alongside some fictional designs. Ace Combat is recognized as one of the most successful arcade flight franchises in the video game industry.
There are currently 16 games released in the Ace Combat series. Over half of the games are exclusive to PlayStation devices, though other games have been featured on other devices such as Xbox 360/One, Nintendo 3DS, and Windows PCs. As of December 9, 2015, the Ace Combat games have sold approximately 14,000,000 units across all games and regions.[1]
Description
We've still got some work for you, too, so don't slack off now.
This article or section is a stub. You can help by
expanding it
.
History
Precursor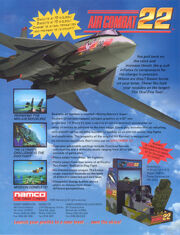 Main articles: Air Combat (arcade), Air Combat 22

In 1988, Namco released the Namco System 21, the first arcade board specifically designed for processing 3D polygons. It evolved significantly throughout its five-year lifespan, during which the flight game Air Combat was released. Air Combat was one of the first arcade flight games of its kind on such hardware. In 1993, the successive Namco System 22 was released, featuring many graphical improvements over the System 21. Air Combat 22, a direct sequel to Air Combat, was released on the System 22 in 1995.
PlayStation Trilogy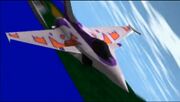 Main articles: Air Combat (PS1), Ace Combat 2, Ace Combat 3: Electrosphere

On June 30, 1995, Ace Combat released in Japan on the new PlayStation console. Unlike its arcade counterparts, the PlayStation game featured a full rock-and-roll soundtrack, a basic campaign mode, wingman support, and many more aircraft available to the player. It also featured unique tunnel flight and canyon flight missions, as well as a fight with an aerial warship. This is considered to be the start of the series.
Three months later, the PlayStation was released in North America and Europe. Ace Combat was localized soon after in these regions as Air Combat. The game sold over 2.2 million copies worldwide,[2] and received the "Best Flight Sim of 1995" reward from Electronic Gamer Monthly.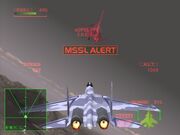 In 1997, Ace Combat 2 was released internationally. Compared to its prequel, Ace Combat 2 featured improvements on graphical fidelity and gameplay. In addition, it introduced the series's first fictional aircraft designs (namely the ADF-01 FALKEN and XFA-27) and hidden named pilots. The game sold over a million copies internationally,[2] and was critically well-received.
The series's story-telling took root in the release of Ace Combat 3: Electrosphere in 1999. Electrosphere was the first game in the series to have story implications depending on the player's gameplay and choices. The game also featured numerous fictional aircraft (many of which were based on real-life designs). However, Namco could not obtain funding for internationally localizing Electrosphere due to its massive amount of dialogue; consequently, the international releases in 2000 featured a different story with no dialogue and a strictly linear path.
PlayStation 2 Trilogy
Main articles: Ace Combat 04: Shattered Skies, Ace Combat 5: The Unsung War, Ace Combat Zero: The Belkan War

Ace Combat 04: Shattered Skies, released in 2001 on the PlayStation 2 (as Ace Combat: Distant Thunder in Europe), is considered by many to be the true beginning of the Ace Combat series. It was the first game to establish the history of a fictional world that would be used for many future games, yet it retained the mute, faceless player character from previous titles. The game also featured an orchestral soundtrack for the first time. Shattered Skies is the most commercially successful game in the series; it sold over 2.6 million copies[2] with remarkable review scores.
2004's Ace Combat 5: The Unsung War (Ace Combat: Squadron Leader in Europe) continued to develop the fictional world from Shattered Skies, now known as Strangereal. The Unsung War had one of the most developed stories in the series, with a full cast of characters on all sides of the depicted conflict. The story's anti-war premise was hugely popular among critics due to how rare such a premise is presented in similar war games.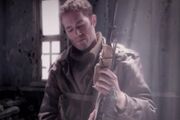 Ace Combat Zero: The Belkan War, released in 2006, continued to carry a similar anti-war theme, but in a more pessimistic nature. Cipher's character development, which depends entirely on the player's actions throughout the game, was highly praised. The Belkan War' was also praised for its unique soundtrack, which implemented flamenco guitars. However, the game was one of the worst-selling console games in the series, failing to reach 800,000 copies sold.[2]
Handheld Games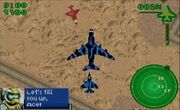 A year before the release of The Belkan War, Ace Combat Advance was published exclusively in North America, featuring a prequel story to Electrosphere. Its gameplay and story remained minimal compared to the rest of the series, and the game was barely marketed, causing it to sell merely 100,000 copies.[2]
Bandai Namco attempted once more to enter the mobile market, and released Ace Combat X: Skies of Deception in 2006. They heavily utilized the PlayStation Portable's similarity to PS2 functionality, and attempted to use a more developed story. X was acutely successful, selling nearly half a million copies.[2] A prequel game would be released on iOS, Ace Combat Xi: Skies of Incursion, but it didn't reach the same number of sales.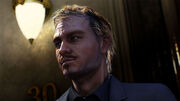 Another mobile game, Ace Combat: Joint Assault (Ace Combat X2: Joint Assault in Japan) was released in 2010. Joint Assault used the same gameplay engine as Skies of Deception with some minor changes, but it was notable for its story, the first in the Ace Combat series to take place in the real world. It retained Strangereal's audacity in storytelling, with numerous aerial warships and advanced weapons used against the player character. It was also the first game in the series to use CGI animation for its story cutscenes.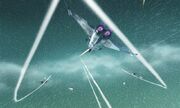 In 2011, Ace Combat: Assault Horizon Legacy (Ace Combat 3D: Cross Rumble in Japan) was released. Despite its name, the game was a remake of Ace Combat 2, fleshing out the story and adding more content to the original game such as ace squadron battles akin to those from The Belkan War. While sales figures are unknown, the game was successful enough to warrant a re-release in 2015 featuring support for the New 3DS as well as amiibos.
Ace Combat: Northern Wings was also released in 2011, developed for Java mobile phones. Similar to Advance, Northern Wings received little-to-no marketing, and releasing on an unpopular platform resulted in very few people playing the game. In addition, its story conflicted with prior games, resulting in fans ignoring Northern Wings entirely.
Multi-Platform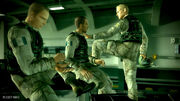 The first Ace Combat game on the 7th console generation was Ace Combat 6: Fires of Liberation, which released on the Xbox 360 in 2007. Fires of Liberation utilized a more advanced graphics system than previous games in the series, allowing for large battlefields and higher-quality effects. Due to releasing on the Xbox 360 rather than the expected PlayStation 3, the game only sold 700,000 copies, the lowest of any console game in the series.[2]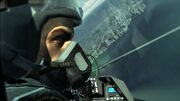 Ace Combat: Assault Horizon in 2011 was the series's first release on PlayStation 3, and its first and only multi-platform release. Assault Horizon became one of the most controversial games in the series; it implemented a new gameplay mechanic named Close Range Assault, and it utilized a more realistic story than those in previous games. It was critically well-received, but fan reception was mixed. In 2012, Assault Horizon was ported to PC, becoming the first and only Ace Combat game available on that platform.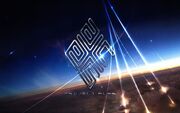 Ace Combat Infinity, the series' first free-to-play game, released in 2014. In contrast to Assault Horizon, Infinity brought elements from past Ace Combat games, especially Shattered Skies, to our Earth. Infinity doesn't feature a large story campaign, but its co-operative multiplayer became the most popular multiplayer in the series. Infinity has been downloaded over 3,000,000 times, making it the most-played Ace Combat game in the series.[3]
Next Generation
In December 2015, Ace Combat 7: Skies Unknown was formally announced to the public. It will be the first game to release on the 8th console generation, and it will also feature virtual reality integration. It was first announced for PlayStation 4, with an announcement that it would also be releasing on Xbox One and PC being made in late January 2017.[4] Further details on 7, including the release date, are still unknown.
List of Games
The Ace Combat games have been separated into four different sections below, depending on their content.
Main Games
The "Main Games" in the series are console games that take place within the Strangereal universe.
Title
Platform
Year
Sales
Metacritic
Air Combat
PlayStation
1995
2,230,000[2]
N/A
Ace Combat 2
1997
1,092,000[2]
83
Ace Combat 3: Electrosphere
1999
1,164,000[2]
N/A
Ace Combat 04: Shattered Skies
PlayStation 2
2001
2,640,000[2]
89
Ace Combat 5: The Unsung War
2004
1,802,000[2]
84
Ace Combat Zero: The Belkan War
2006
792,000[2]
75
Ace Combat 6: Fires of Liberation
Xbox 360
2007
700,000[5]
80
Ace Combat 7: Skies Unknown
PlayStation 4 / Xbox One / Steam
2019
Unreleased
Secondary Games
The "Secondary Games" in the series are handheld games that take place within the Strangereal universe.
Spin-Off Games
The "Spin-Off Games" in the series are games that exist within their own continuity. This usually means that they take place on an Earth more like ours, or do not respect the continuity of Strangereal established in prior games.
Other Games
This list of "Other Games" includes games that have been developed by Namco or Project Aces, but have not been released and/or are not considered to be an official part of the Ace Combat series, but feature some ties to the series that require their mention on Acepedia.
External links
References
↑ PS4「エースコンバット 7」PSX出展用トレーラー. YouTube. Published December 9, 2015. Retrieved December 16, 2015. Sales total is mentioned in the description.
↑ 2.00 2.01 2.02 2.03 2.04 2.05 2.06 2.07 2.08 2.09 2.10 2.11 2.12 2.13 2.14 『エースコンバット』シリーズ全世界累計1,000万本突破!. Retrieved on April 14, 2015.
↑ 3.0 3.1 This is the number of PSN accounts that have downloaded Ace Combat Infinity for free, regardless of playtime or amount of money spent.
↑ ACE COMBAT 7: SKIES UNKNOWN New Years Showcase Trailer PS4, PS VR, XB1, PC. YouTube. Published January 26, 2017. Retrieved November 13, 2017.
↑ 5.0 5.1 Dark Souls sells 1.19 million. GameSpot. Published May 8, 2012. Retrieved December 1, 2014.