Ace Combat: Assault Horizon Multiplayer
Talk

0
1,779pages on
this wiki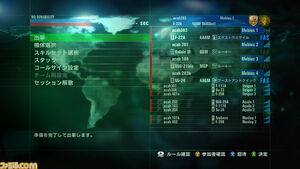 Ace Combat: Assault Horizon features online multiplayer capabilities, similar to its 2007 predecessor. The game's feature mode, Capital Conquest, has players from both NRF and NATO either attacking or defending cities such as Paris or Washington. All ranges of aircraft can be used, from fighters and multiroles to attackers and choppers. When a base is at critical damage levels, the B-1B and B-2A become available for that side, and can be used to cause massive damage to the opposing base. However, they require Air Strike Mode to bomb (meaning they can only bomb the HQ, and only when available), and are very vulnerable, given their limited maneuverability.
The other three modes are Domination, where two sides gain points by capturing and defending various bases; Deathmatch, where points are gained by shooting down other planes; and Mission Co-Op, where up to four players can choose from one of eight specially-designed Campaign missions to play together with increased difficulty.
A new addition to multiplayer is the "Skill Set" system, which allows players to customize their aircraft's statistics to suit their game style, in ways such as stealth, mobility and weapons. Another addition is the "Friendly Assist System" (FAS), which allows up to four players to share a skill's benefits.