Ad blocker interference detected!
Wikia is a free-to-use site that makes money from advertising. We have a modified experience for viewers using ad blockers

Wikia is not accessible if you've made further modifications. Remove the custom ad blocker rule(s) and the page will load as expected.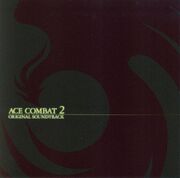 The
Ace Combat 2 Original Soundtrack
is the soundtrack of
Ace Combat 2
. The OST contains music composed by
Kohta Takahashi
,
Hiroshi Okubo
,
Tetsukazu Nakanishi
,
Nobuhide Isayama
and
Go Shiina
. In regards to its style, the soundtrack of
Ace Combat 2
was a huge leap from that of
Air Combat
, and marked a turning point in the series' musical style. It combines tunes with high-quality synthesis and electric guitar, made specifically to set a distinct atmosphere for gameplay.
The soundtrack was formally released in August 26, 2010, more than a decade after the game's release, as part of the Deluxe Pack of Ace Combat: Joint Assault. .The Deluxe Pack OST is divided into two discs; Disc 1 centers on the music of Ace Combat 2 proper, while Disc 2 is centered on miscellaneous music, such as the tracks from the Ace Combat 2 Original Sound Invitation and an unused track from AC2. As well, it contains eight samples of Go Shiina's music for Joint Assault.
Soundtrack Listing
Disc One
Title 0:22
Lightning Speed 1:10
Dystopia 1:12
Invoke 1:37
Briefing 2:11
Lode Stone 1:46
Aim High 2:14
El Dorado 3:47
Fire Away 3:02
Bear Tracks 4:02
Rising High 1:53
On The Sly 3:22
Dead End 2:36
Blow Away 1:43
Warning Line 2:41
Melt Down 3:34
Fire Youngman 3:12
Elemental Particle 4:04
Aerial Hawk 3:43
Into The GEO 2:39
Night And Day 3:01
Sunset Glow 3:38
Dynapolis 2:29
Completition 0:11
Failure 0:09
A Fresh Youngster 1:26
Hanger 1:48
Ending Attract (Normal) 0:36
Ending Attract (Extra) 0:36
Normal Ending 2:09
Extra Ending 2:26
Disc Two
Invitation to ACE COMBAT2 5:26
Night Butterfly 5:36
A.C.Revolution 5:34
Hawaii Travel 0:22
Metropolitan 3:05
Linkage (Sky mix) 2:02
Tokyo 2:20
Riding on Hope 4:14
Conflict 2:27
Call 3:27
Footsteps in the Night Sky 4:13