Ace Combat 3: Electrosphere
Talk

9
1,898pages on
this wiki
Ace Combat 3: Electrosphere
Developer(s)
Namco
Publisher(s)
Namco
Release Date(s)
May 27, 1999 (JP)[1]
January 21, 2000 (EU)[1]
March 2, 2000 (NA)[1]
Gameplay Modes
Single-player
Ratings
ESRB: E[2]
Platform(s)
PlayStation
Media
CD-ROM x2 (uncut edition)
CD-ROM x1 (export edition)
Official Website
Ace Combat 3: Electrosphere (エースコンバット3: エレクトロスフィア Ēsu Konbatto Surī: Erekutorosufia) is the third installment in the Ace Combat series and chronologically the latest one to be set in Strangereal. In 2011, Namco Bandai retconned Ace Combat 3 as the chronologically first installment in the United Galaxy Space Force series.
Ace Combat 3 was revolutionary for the series in many ways. Gameplay elements introduced in it that carried over into later games include:
A third-person 360-degree camera that could be rotated on all three axis with the right thumb-stick, allowing the player to keep enemies in constant sight
Allowing the player to choose their aircraft's weapons before each mission
Alternative paint jobs for playable aircraft, though they were not freely selectable yet
Use of animated cutscenes and radio chatter between allies and enemies as a narrative medium
Story-relevant wingmen (although these weren't controllable anymore, a feature that would first be reinvented as the Wingman Command system in Ace Combat 5)
Storyline branching depending on the player's actions during missions
Electrosphere is thus far the only Ace Combat game featuring multiple endings. Since no other game in the series is chronologically set after it, it is unknown which ending (if any) is canonical. Before Ace Combat X, it also remained the only game to feature major storyline branching (though X has only one ending); minor branching was present, for instance, in Ace Combat 5 and Zero.
It is also the only game in the series so far to feature a mission (2A, "Zero Gravity") set in the outer space. Although there is only one, it featured a reasonably accurate physics model of a zero-gravity situation.
Unlike other Ace Combat games, the player's choices affect how the plot progresses, and there are multiple endings. There are a total of five endings and many alternate plots which don't affect alliances. As there have been no Ace Combat games set after Ace Combat 3, it is unclear which ending is canon.
The plot of Electrosphere takes place in the future (some time between January 1[3] and July 21, 2040[4]) of Strangereal. By this time, its national governments have decayed and were effectively replaced by a global corporatocracy led by Neucom Incorporated, heir to the Erusian Aeronautics and Space Administration that sponsored the Erusean aggression during the Usean Continental War (depicted in Ace Combat 04), and General Resource Limited, successor to the infamous Belkan Gründer Industries that played a large role in the Belkan and the Circum-Pacific Wars (depicted in Ace Combat Zero and Ace Combat 5, respectively).
Somewhere in the 2030s, territorial disputes on the Usean Continent (the so-called "Faith Park Dispute") sparked tensions between Neucom and General Resource (GR), which escalate with the creation of the X-49 Night Raven, GR's cutting-edge experimental mainframe. Transports belonging to the Neucom Emergency Unit (NEU) begin to trespass upon the no-fly zones imposed by the Universal Peace Enforcement Organization (UPEO) under the authority of Neo United Nations (NUN), causing the latter to order their Special Armed Response Force (SARF) branch to destroy a Neucom transport group over Expo City. This event forces Neucom to take arms, kicking off the conflict known as the Usean Corporate War.
Characters
Edit

Cultural references
Edit
The plot of Ace Combat 3 contains several parallels to concepts from Ghost in the Shell anime films, Production I.G.'s (the animators of the in-game cutscenes) most famous franchise. Possible references include the subterranean city Geofront and the uploading of a brain/consciousness to a computer (referred to as "sublimation" in Electrosphere and "ghost-dubbing" in GitS). The Geofront may have also been a reference to a location in the Neon Genesis Evangelion.
The game's style is reminiscent of the Wipeout video game series, especially the Head-up display. The company logos of Neucom, Ouroboros, General Resource, and the UPEO bear resemblance to the works of The Designers Republic.
Namco's later games Ridge Racer V and Ridge Racer 6 contain many references to Ace Combat 3 itself, such as billboards with the General Resource and Data Swallow logos; the UPEO, Data Swallow, and Electrosphere logos plastered on various cars; and cars sponsored by Neucom and General Resource.
Release history
Edit
The original Japanese version of the game was released on May 27, 1999 and contained 52 missions, all anime cutscenes, story branches, and five distinct endings. It came on two CDs, the first of which contained the UPEO and General Resource story arcs, while the missions for Neucom and Ouroboros were on the second disc. When players progressed from disc one to disc two, they were asked to insert the other CD.
A supplementary guide book titled Ace Combat 3 Electrosphere - Mission & World View Guide Book was published to accompany the original Japanese release.
The international English version was released on a single CD on January 21, 2000 in the United States and on March 20, 2000 in PAL regions. Perhaps because of the negative reception by the Japanese fanbase,[5] Namco heavily modified the game for this export version. The storyline was reduced to a linear progression of 36 missions, cutting all in-game dialogue and anime cutscenes and removing or replacing original characters with nameless stand-ins (such as the haywire AI replacing a brainwashed Rena Hirose). The resulting game was much closer to the arcade style of Ace Combat 1 and Ace Combat 2 but was met with lukewarm critical reception[6] and boasted lower overseas sales than the home release.
When asked by GameDaily about a possibility of re-releasing the original uncut Electrosphere in English, Naoto Maeda of Namco Bandai stated:
"As far as a re-make of Ace Combat 3 is concerned, we have no plans to do this at this time. The development team is aware that there are a lot of fans out there that really loved Ace Combat 3. If enough voices calling for a re-make were gathered and various issues could be resolved, then I think it might be worth it."
― Naoto Maeda, Namco[citation needed]
In the meantime, a fandom-driven Project Nemo was initiated in 2009 to fully translate the Japanese version of the game into English. As of 2011, all cutscenes and mission dialogue have been translated and made available in a bundled HTML file archive.[7]
Electrosphere is the first in the series to have Japanese voice-overs, and the only one so far not to have a full English translation.
Soundtrack
Edit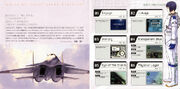 The original soundtrack for the game was composed by Tetsukazu Nakanishi, who went on to work as the sound director of Ace Combat 04, 5, Zero, and 6, and much of the same team responsible for the critically-acclaimed Ridge Racer soundtracks. It consists of a variety of electronic music, largely ambient mood setting tunes, as opposed to the rock music found in Ace Combat 2. The OST CD was released in 1999.
Unlike the previous and later games in the series, which featured mostly existing or prototype aircraft (except Ace Combat Advance), Ace Combat 3 features exclusively original fictional planes. In the uncut version of the game, there are 23 playable planes (one exclusive to the Mission Simulator mode), though only a portion of them is available at any time, since Nemo is limited to aircraft operated by the faction he is currently allied with (UPEO, GR, Neucom, or Ouroboros); this restriction is lifted in the Mission Simulator mode. The export version features 21 aircraft, although three of them (the superfighters UI-4054 Aurora, X-49 Night Raven, and XR-900 Geopelia) can only be flown in Mission Simulator.
In both versions, new aircraft have to be unlocked by completing certain campaign missions. Unlike in the other installments, the player can fly any unlocked plane immediately, without having to buy it first. In the uncut version, two planes, EF-2000E Typhoon II and MiG-33 Fulcrum SS, are available from the start, though only the former is this in the export version. Aircraft produced by General Resource are mostly based on contemporary real-life fighters (e.g. F-22C Raptor II, an evolution of F-22A Raptor); Neucom manufactures the fantastic R-series, which are named after marine animal genii (e.g. Delphinus) or birds (Geopelia); and UPEO planes are similar to GR but more diversified, with some simpler Neucom and high-end Sukhoi fighters thrown in. Overall, UPEO aircraft emphasizes maneuverability, NEU relies on speed and high-tech weaponry, and GR strikes a balance, with moderate to high scores in all aspects. Ouroboros offers the best planes of the other three factions plus two superfighters.
Before each mission, the player selects a plane from the currently available selection for Nemo to pilot, and then the weapons it will carry. Electrosphere was the first game in the series to feature alternative munitions, as previous games only had machine guns and all-purpose missiles; unlike later games, however, it allows only one type of missiles to be loaded on a plane, but also offers several types of guns (Vulcan, Cannon, Laser Cannon, etc.). Which types of guns and missiles can be loaded on a plane depends on its model, and all types become available as soon as the respective plane is unlocked. The player has no control over their wingmen's aircraft and armaments.
Electrosphere was the first game in the series to feature alternative paint jobs for the player's aircraft. However, unlike in the following games, the player could not select them freely but, at least in the uncut version, was restricted to the preferred colors of the faction Nemo is currently allied with (UPEO, GR, Neucom, or Ouroboros).
The flagship aircraft of the game is the Su-37 Super Flanker. It is one of three Ace Combat games to feature a Sukhoi fighter on the cover (the others being Ace Combat 2 and Ace Combat: Assault Horizon).
A member of simviation.com nicknamed "youdontknowxpand" has created Microsoft Flight Simulator X plane models of several of the fighters that appeared in Electrosphere, including F-15 S/MT Eagle+, F-16XF and XFU, F-22C Raptor II, MiG-33 Fulcrum SS, Su-43 Berkut, XFA-36A Game, R-101/101U Delphinus 1, R-102/102-C Delphinus 2, R-103/103-3 Delphinus 3, R-311 Remora, X-49 Night Raven, XR-900 Geopelia, and UI-4054 Aurora. All planes are accurately reproduced with base on official AC3 stats and information. Support were also given by Electrosphere 2.0.[citation needed]
References
Edit
↑

The interface in the main menu screen is dated 2040.

↑

Late in the game (in any ending), a news story says that Aldair Carlos Nascimento (the executive director of General Resource) died at 3:56 PM, in an unknown date in 2040. His age was mentioned as 75 years old. According to the in-game archives (only in the Japanese version of the game), Aldair was born on July 21, 1964.

↑ Average review scores of Ace Combat games, compiled by GameRankings.com. Last accessed on August 25, 2010.
External links
Edit