Air Defense Anti-Tank System
Talk

0
1,779pages on
this wiki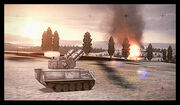 The Air Defense Anti-Tank System (ADATS) is a dual-purpose short range surface-to-air and anti-tank missile system based on the M113A2 vehicle, manufactured by Oerlikon-Contraves.
Background
Edit
After an extensive competition, the ADATS system was selected by the U.S. Army for the FAAD program under the designation MIM-146 for the missile, but ultimately the FAAD contract was canceled in the early 1990 because of the end of the cold war. It is currently in service with the Canadian Army and in Thailand (Shelter version).
Description
Edit
The ADATS missile is a laser-guided supersonic missile with a range of 10 km with an electro-optical sensor with TV and FLIR. The carrying vehicle has also a 25 km+ 2D radar. In 2005, the Canadian Forces decided to transform the ADATS system into a Multi-Mission Effects Vehicle (MMEV). Not only the MMEV will retain the ADATS capability [85%+ engagement success rate] but it will be mounted on a Light Armored Vehicle LAV III, fitted with a 3D radar, Non-Line of Sight (NLOS) missile and Low Cost Precision Kill missile based on 2.75 inch rocket and advanced Battle Management Command and Control Communication Computer and Information [BMC41] providing the Army Commander with a flexible platform for homeland defense and for its expeditionary forces as part of the Air Defense or the Direct Fire Squadron when facing asymmetric and conventional threats.
Appearances
Edit
Operators
Edit
Notable Units
Edit
Miller Unit / Leasath Special Forces (ACX)
Ace Combat Series - Ingame Data
JianDaoXiao (ES 2.0) - AC2 Images