Alvin H. Davenport
Talk

2
1,779pages on
this wiki
Alvin H. Davenport
Biographical Information
Other names
Chopper
Japanese Voice Actor
Hideo Ishikawa
English Voice Actor
Eddie Frierson
Homeland
Osea
Date of birth
1981
Date of death
November 29th, 2010 (Over November City, Osea)
Physical Description
Gender
Male
Age
29
Blood type
B
Height
6'1
Weight
89 kg
Hair color
Black
Eye color
Blue
Professional Character Data
Callsign(s)
Wardog 3
Vehicles
F-5E Tiger II, F-14A Tomcat (official), changes per player's preference.
Rank
Lieutenant Colonel (Posthumous)
Notable facts
Number 3 of the Wardog Squadron (Until Operation Super Circus)
Chronological and Political Information
Affiliation
Osean Air Defense Force, 108th Tactical Fighter Squadron
[Source]
"I never complain about my missions, what I'm doing now is not complaining."
―Chopper
(1981-2010) Alvin H. Davenport (アルヴィン·H·ダヴェンポート Aruvu~in· H· davu~enpōto), better known by his callsign, "Chopper"(チョッパー Choppā), was one of the main characters in Ace Combat 5. He flew with the Wardog squadron and served as one of Blaze's wingmen in the Circum-Pacific War.
Not much is known about Alvin Davenport's early history. Almost immediately after joining the Osean Air Defense Force, however, he began a reputation that would follow him to the end. He was a fan of rock & roll music and quick-witted, constantly bad-mouthing superiors over the radio, and notorious for unnecessary chatter. After the catastrophe over the Ceres Ocean involving the deaths of nearly a dozen trainee pilots, Davenport was assigned the third position in Wardog Squadron, headed by Captain Jack Bartlett of equally damaged reputation (Davenport was on the ground that day). Chopper's (Davenport's nickname) first contribution to the Circum-Pacific War was sending a surrender request to a damaged enemy reconnaissance aircraft hit by friendly SAMs. In the following weeks, Chopper continued to serve under two different captains: Bartlett, and his former wingmate known by him only as "Kid." Aside from Bartlett, he was the only one who called Blaze by his nickname "Kid" most of the time because he wanted him "to start trash talking like a captain," When Blaze first became Captain of the Wardog Squadron, he doesn't seem to respect Blaze's position much, but soon gains faith in Blaze's abilities. He also constantly argued with his squadron's AWACS, Thunderhead, over his "useless" chatter.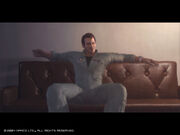 Chopper made it known to his allies that he did not support this war, along with the rest of his squadron. After escorting
Osean
President
Harling
to safety, Chopper had some degree of faith for the president's ability to restore peace; but when Operation Footprint took place, he lost all trust in his country's leader. He constantly spoke out against the war during several operations, criticizing military and political leaders. His tendency to speak out was noticed by capital personnel during and after his interrogation after he and his squadron allegedly attacked a
Yuktobanian
engineering college.
After sinking the Yuktobanian submarine carrier Hrimfaxi, 1st Lieutenant Davenport seemed to like the nickname that his squadron gained as the "Demons of Razgriz." He was even quoted later by referring to himself as "Razgriz 3" during the operation in the Jilachi Desert. Ironically, he was the only Wardog pilot to never hold an official Razgriz callsign, and the callsign "Razgriz 3" later belonged to Marcus Snow.
Wardog Squadron gained so much attention that they were eventually asked to do a fly-by over a stadium in Osea's November City. During that operation, the citizens in the stadium began singing "The Journey Home," an anti-war song, and Chopper eagerly joined in.
Little did they know, Yuktobanian fighters appeared and attacked the Wardog Squadron. They were forced to engage the hostiles. During the battle, Chopper's plane was hit. The Wardog Squadron told him to bail out into the stadium. Chopper waited for everyone in the stadium to evacuate before he crashed into it. By the time he went to crash into the stadium, his ejection seat was not working, so he went down with his plane. AWACS Thunderhead described him as being, "a model fighter pilot to the end." A squadron of arranged F-2A Viper Zeros, the allied reinforcements, then flew the missing man formation over the stadium where Chopper crashed. His dog, Kirk was then cared for by Peter N. Beagle.
"Heheh...I'm gonna miss that voice."
―Chopper's last words, directed at AWACS Thunderhead
"Oh yeah, just weave through the missiles. What are you, nuts!?"
"Then everyone down there is your brother!"
"Ah I missed that sweet voice. Say, you get that from your mama's side of the family?"
"Hey, Kid!"
"If he's a captain, then I want him to start trash talkin' like a captain. Man I'm missing that voice real bad now."
"That's your name for me?!"
"Aah! My Rock-and-Roll records! They're in my room! It took me forever to collect all those!"
"Look at the hangar. Who the hell pulled that out?"
"Thunderhead, this is Razgriz 3, roger that!"
"How could the President authorize an escalation of the war like this? We'll get bogged down in this forever. Hey, that Mr. Cargo guy was the President right? Man, I thought I could believe in him back then. I had no idea he was such a wuss!"
"I just wanna get out of this ejection seat and into a hot tub."
"Well I guess you could say... Sorry, thought I felt a joke comin' on."
"Guess I'll turn off the mic and try talking to myself."
"Hey, our cover's blown anyway, I'm gonna start talking now!"
"Razgriz... the Demon of Razgriz got her, right?"
"That's one tough boat, man! Yeah!"
"My grandma used to tell me those stories when I was a kid; and every time she did, I'd be too scared to go to the bathroom in the middle of the night."
"Got a towel? I need to wipe all this sweat off my brow."
"These guys are just gonna storm in, head-on, following orders. That's how war is fought. That's why I hate it!"
"That's what I hate about war! No matter who starts it, it always comes to this!"
"Hey, control tower. I feel like crying too, believe me!"
"Sooo, shouldn't it be higher up then?"
"This is the middle of Osea! How can they be attacking here!?"
"Come on, whoever's out there, help us out! Get that bucket o' bolts outta here!"
"Everyone's starting to leave! Can we go yet?"
"Thoughts endless in flight, day turns to night..." (singing)
"'Till the very end, you idiot! Weve got to protect these people!"
"The hell you are! You're not even out of replacement pilot training yet! Aren't there any other spare pilots around?"
"Chopper to Archer. You sure that's not your own suit you're smelling? He he he..."
"Ok, I'll get ready to pass the baton."
On Mission 27, ACES, players can hear Chopper in the scene where the Yuktobanian, Osean & Razgriz aircraft fly together in a single squadron. During the part where The Journey Home is sung by all pilots in unison, listen closely: one of those pilots has a very similar (if not the same voice) as Chopper. Some fans speculate that the Razgriz members are hearing Chopper's voice "in their heads", as Nagase and Grim do comment on their memories of Chopper's radio chatter. This is possibly a way of showing that, even though Chopper died before receiving the official Razgriz callsign, he is equally a part of the symbolic "Razgriz".
Also in Mission 27 there's a voice very similar to Chopper's. The voice appears moments before the tunnel´s opening and it says: "Man, that's a big tunnel".
When Chopper talks, his name is displayed as his callsign (Chopper) rather than his last name (Davenport). He is the only one of Blaze's wingmen to have this trait.
In one mission of Ace Combat 04: Shattered Skies, someone named Davenport is addressed.
Technically, Chopper outranks every other Wardog pilot, as he was posthumously promoted two ranks to Lt. Col., while the rest of them were still Captains at the time of their official "deaths."
He resembles actor Bradley Cooper and singer Elvis Presley.