We've still got some work for you, too, so don't slack off now.
This article or section is a stub. You can help by
expanding it
.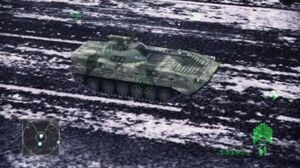 Armored personnel carriers (APCs) are a type of armored fighting vehicle designed to transport infantry.
They have made substantial appearances in the Ace Combat series.
History
Strangereal
Lighthouse War
Erusea utilized APCs during the Lighthouse War to an unknown extent.[1]
Joint Assault universe
Assault Horizon universe
Infinity universe
Named Units
Osean Army
1st Army Battalion
2nd Army Battalion
Gallery
References