Before the two planes take off, capture both of them in one shot. Got it?

This article or section may require more images or images of better quality.
Axel Bay is a body of water on the southern Usean continent. It encompasses the city Selatapura and the International Space Elevator.
In Ace Combat 2 and Ace Combat 3: Electrosphere, the name "Axel Bay" was also used for an industrial port city to the southeast of the bay.
History
Axel Bay experienced a period of massive economic growth due to the construction of the International Space Elevator.[1]
During the Nemo simulation, an industrial city in Axel Bay was threatened when Ouroboros sent the UI-4052 Crailas airship, equipped with a bio-chemical weapon, to descend upon the city. The Universal Peace Enforcement Organization dispatched pilots to destroy the city's bridges and chimneys in the airship's path. The airship subsequently crashed into the water, preventing any civilian casualties.[2] Since these events were simulated, it is not confirmed if they actually happened.
Gallery
Trivia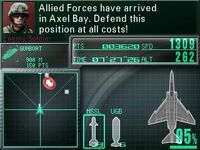 References
↑ [TGS 2017]「エースコンバット7」の物語は単純な善悪の戦いではない――河野Pにストーリーの概要や登場キャラクターの関係などを聞いた. 4gamer.net. Published 26 September 2017. Retrieved 3 October 2017.
Ad blocker interference detected!
Wikia is a free-to-use site that makes money from advertising. We have a modified experience for viewers using ad blockers

Wikia is not accessible if you've made further modifications. Remove the custom ad blocker rule(s) and the page will load as expected.