Basset Space Center
Talk

0
1,900pages on
this wiki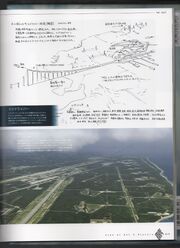 Basset Space Center
, The "
Bridge into Space
". A long mass driver was built here to service the
Arkbird
while in orbit. It's overall length is an astounding seven miles long. There are also several launch towers to send up communication satellites to military satellites. The geography around the mass driver has mountainous terrain and is surrounded by the Ceres Ocean. The mass driver is built upon a seven mile extension of the Southern Osea and was built through cooperative efforts between the governments of the
Union of Yuktobanian Republics
and the
Osean Federation
. The Osean Federation's President
Vincent Harling
made several cuts in the defense budget for fund the construction project.
Circum-Pacific War (Operation Silver Bridge)
Edit
The Wardog Squadron was dispatched to Basset Space Center in order to support the launch of SSTO Space Vehicle while on its mission to deliver the Anti-Space Debris High Powered Laser to the Arkbird. Basset Space Center was attacked by multiple Yuktobanian C-130 Hercules's with aerial tanks, battle tanks that were modified to use parachutes to touchdown. The Wardog Squadron engaged the tanks in the air and on the ground, in an attempt to maintain control over the main launch facility of the space center. After the failure of trying to control the mass driver, the Yuktobanian Forces decided to level the mass driver with B-2A Spirits and multiple cruise missiles to prevent a launch that would arm the Arkbird. The player can shoot down the missiles and bombers, or just defend the base from the missile attacks. This attack was also repelled, and the launch was successful, despite multiple direct hits to the SSTO during its launch.