Unknown Belkan Separatist Squadron
Talk

3
1,779pages on
this wiki
"
Belkan Separatists
" is the unofficial moniker given to an unknown
Belkan
squadron that saw action during the
First Battle of Waldreich Mountains
in the
Belkan War
.
In the aforementioned battle, the Separatists are first seen coming after the Belkan bomber formation, which was en route to
Ustio
with nuclear weaponry, and begin attacking them without warning. They are treated as neutral targets, therefore it is the player's choice to shoot them all down or spare them. Their reasons for attacking the bombers are unknown. However, since the bombs were going to be dropped on South Belkan cities, they may have wanted to stop the bombs from destroying their homes or families or just feared that doi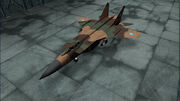 ng the attack could start a nuclear war.
They fly MiG-31 Foxhounds, presumably to catch up with the bombers more easily.
The Separatists disperse after the nukes at the Waldreich Mountains detonate (if the player spares them, that is.)
"Warning. Change course inmmediately. Return to base or you'll be shot down."
"They're no longer our allies. Don't hesitate to shoot them down!"
"They'll end up destroying the entire country!"
"Do they intend to wipe our homeland off the map? That's crazy!"
They are the only neutral targets in the game who shoot, as well as being some of the few, if any at all, fighters automatically neutral.
The Separatist MiG-31 Foxhound's color is like Hans"Riese"Frey aircraft color, which is also the standard paint scheme for all of Belka's MiG-31s in the game, except the Schwarze Squadron aircraft of that of some other aces in the game.
They are the only Belkan Air Force squadron that defected to the allies side in the whole game.
Despite being enemies, the F-15Es escorts will make no attempt to shoot them down, instead trying to destroy the attacking Ustio squadrons.
The Separatists will fire lots of missiles and bullets against the bombers, but the bombers will be intact, being vulnerable only to Cipher an Pixy, so its almost impossible for the Separatists to shoot down even one of the bombers.
Judging the direction (to the south) some of the Separatists disperse after the nuclear detonations, it is possible they continued to Osea and defected.