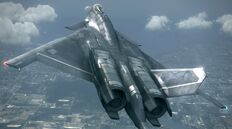 "A fighter with a streamlined payload and excellent maneuverability. After all, a remarkable sense of control is the sign of a true ace!"
― Hangar
The CFA-44 -ACES- is a downloadable aircraft in Ace Combat 6: Fires of Liberation. Part of DLC Pack #10, it was released in July 24th 2008, costing 2.49$ (200 MSP, pre-MSP retirement) at the Xbox Live Marketplace.
Overview
In appearance, the ACES CFA-44 Nosferatu is identical to the basic Emmerian version, save for the added Project Aces emblems placed around the airframe. The ACES emblem replaces the Estovakian Air Force's roundel in the wings, while the tailcode has been changed to "AC 006" (in reference to the game it's in, Ace Combat 6).
The aircraft appears to have been designed for experienced players, as evidenced by its statistics. Air-to-air, air-to-ground and defense have been lowered, the third one to low levels, while speed and stability have been upgraded, the latter solving the aircraft's problematic tendency to stall. As well, weapons capacity was severely reduced to 1/3 of the original (i.e. 100 missiles, 6 ADMM, 8 EML, and 12 ECMP), thus demanding a high level of skill for maximum efficiency.
Gallery
Ad blocker interference detected!
Wikia is a free-to-use site that makes money from advertising. We have a modified experience for viewers using ad blockers

Wikia is not accessible if you've made further modifications. Remove the custom ad blocker rule(s) and the page will load as expected.