SPOILER WARNING -- FULL ARTICLE
Champ was a fighter pilot part of the Osean Air Defense Force's 444th Fighter Squadron, Spare Squadron.
He seems to be very self-centered and shows little care for those around him.[1]
Biography
Champ flew as a member of the Spare Squadron during the Lighthouse War.
On July 4, 2019, Champ participated in Operation One Pair and assisted in crippling the Erusean base located in Roca Roja.[2] The outcome of this battle is unknown.
Spare Squadron was sent in to help allied squadrons Cyclops and Strider break away from the airspace after they came under attack from Erusean MQ-99s. With the help of Trigger, the allied squadrons got out safely. However, after completing the operation, Champ was engaged by an Su-30SM piloted by Mihaly. He proceeded to dogfight with this new foe, ignoring orders from Bandog to not do so, and was quickly shot down by the old ace.[3]
Gallery
Trivia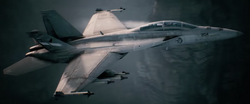 References