Retro-reflective Projection Technology
Talk

0
1,779pages on
this wiki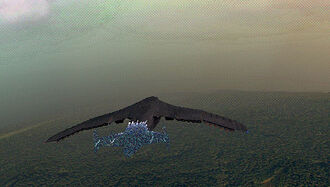 Arguably one of the most advanced pieces of battle technology in Ace Combat history, Retro-reflective Projection Technology (PRT) is a cutting-edge system that renders the user aircraft completely invisible, both to radar & to normal pilots.
PRT, confusingly, is referred to by different names in the Ace Combat X game and in this wiki. To clear this up, the names are as follows:
Digital Optical Stealth (DOS)
Optical Camouflage
Retro-reflective Projection Technology (PRT, strangely, rather than RPT)
The PRT (in actuality, a stealth camouflage) works by fitting the user's aircraft with a skin which mimics the user's surroundings, thus rendering them nearly invisible.
Employment on the 2020 Conflict
Edit
In the Leasath-Aurelia War period, Leasathian scientists were already researching for a way to cloaking an individual/object. After a long time of investigation, their objective was fulfilled with the creation of the Digital Optical Stealth camouflage system. And the first aircraft to be equipped with the DOS system was the XB-337 Gleipnir gunship. The DOS was used to great effect during the 2020 conflict, greatly increasing the Gleipnir's combat capabilities. The DOS was also equipped on the Fenrir.
Cons of the DOS
Edit
While still invisible, the employer is not completely invisible. A sharp-eyed individual could make out the user's location by looking for small ripples in the air.
The camouflage does nothing to stop the aircraft from being damaged under the optical cloak, and sufficient damage will shut it down completely.
The Shock Cannon needs so much power that it and PRT cannot run at the same time, The PRT has to be disengaged before firing the Shock Cannon.
While invisible, the user is still in danger from collision from another plane especially the high speed Fenrir.