E-767
Talk

3
1,902pages on
this wiki
E-767 AWACS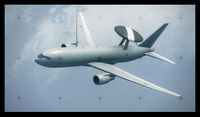 Description
Edit
The Boeing E-767 Airborne Warning and Control System (AWACS) developed as a natural progression from the E-3 Sentry following the closure of Boeing's 707 production line. The E-767 combines a Boeing 767-200ER airframe with the APY-2 development of the E-3 Sentry's APY-1 radar and mission system.
The first flight of the completed E-767 occurred on 9 August 1996 at Everett, Washington. To date only the JASDF (JASDF) has ordered the E-767, initially purchasing two in 1992, increasing the order to four in 1994. The first production E-767 is now entering an extensive testing and certification program with the aim of delivering the first two E-767's to the JASDF in 1998. Other military variants of the 767 are now under consideration, including tanker and strategic transport aircraft to replace the aging fleet of KC-135's and Boeing 707's in world wide military service.
Notable AWACS's
Edit
Other uses in combat
Edit
In Ace Combat 04: Shattered Skies there is an air-to-air mission where two opposing E-767s each create an obscuring circle on radar (concealing other planes in its diameter) but do not impede visual acquisition (seeing other planes), targeting, or missile lock. In an air-to-air mission in Ace Combat 5: The Unsung War however, the two opposing E-767s instead 'spoof' the player's radar by creating visual and radar dopplegangers of other planes so that the player might waste ammunition and missiles firing on the phantom planes. In another mission in the latter game, an E-767 interferes with the signal from Kei Nagase's emergency locator beacon, causing the player to home in on the AWACS instead in order to deactivate the jammer. In Ace Combat 6: Fires of Liberation AWACS Snake Pit is used to provide ESM to Garuda Team.
On mission 16A (Ace Combat 5) a glitch might happen that makes the enemy AWACS that appears at the end of the mission fly straight down and move much faster than normal.
The Ace Combat Series
Global Security.org
Fighter Planes.com
Federation of American Scientists Military Analysis Network
Boeing: E-767 History & Expanded Information
Image: Weblio.jp
Wikipedia:Boeing E-767