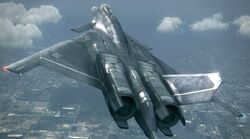 An Electronic Counter Measure Pod (ECMP) is a device used to jam radar and prevent it from locking onto targets. Aircraft such as the EA-6B Prowler are used for this role. However, fictional Ace Combat aircraft such as the ADFX-01/02 Morgan and the CFA-44 Nosferatu are able to carry this device internally. The jammer emits electromagnetic pulses that can scramble radar. Most usually jammer aircraft are highly specialized, like EA-6B Prowler, EA-18G Growler, EA-200 and the E-767 AWACS planes in the AC series, or the Tornado GR.4 in Ace Combat 6. The CFA-44 and ADFX-01 are single-seat aircraft and seem to have greatly reduced the difficulty of operating a jammer.
In-game in Ace Combat 04: Shattered Skies the aerial transport attack mission (against three C-17A Globemaster IIIs) is complicated by a pair of E-767 jammer aircraft that produce a solid green circle overlapping all planes underneath their radar cover, but do not impede visual sight or missile targeting. In Ace Combat 5: The Unsung War, a similar mission has the 4 E-767 AWACS jammers create visual "fakes" with intent to cause missiles to be wasted against them. In Ace Combat 6: Fires Of Liberation , enemy ESM-generating (and thus missile accuracy-degrading) objects presumably have some form of ECMP installed, and there is at least one mission where enemy Tornado GR.4 planes are acting as mobile jammers by continuously using ECMPs.
Variants in the Ace Combat World
Game Analysis
Trivia
In AC04, AC5, ACX, ACJA games, the Su-37 Terminator is shown with ECM pods "Sorbtsiya" L0005-S ("Сорбция" Л0005-С) on the wingtips, but these ECM pods have never been available as a special weapon.