The F-1 is a ground attack aircraft.
History
Strangereal
The F-1 saw limited use in the Strangereal world.
The F-1 was used in the Belkan War by the Belkan Air Force. A notable pilot was Daniel Bierofka, callsign Wetterhahn.
During the Aurelian War, a single F-1 was operated by the Leasath Air Force, this was the pilot Shiva. Aurelian Air Force pilot Rick also kept a spare F-1.
Joint Assault universe
During the Valahia Crisis, Antares Squadron has access to the aircraft.
Game Analysis
We've still got some work for you, too, so don't slack off now.

This article or section is a stub. You can help by

expanding it

.
Ace Combat: Joint Assault
How to Unlock
Weapons
Colors
Color 1:
Color 2:
Color 3:
Color 4:
Color 5: JASDF 50th Anniversary livery
Color 6:
Gallery
Ace Combat X: Skies of Incursion
Ace Combat X: Skies of Deception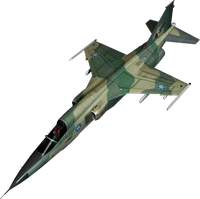 How to Unlock
Complete Skies of Deception twice. Costs 10,300
Statistics

Weapons
Named Aces
Shiva - Found in Captive City. Spawns to the west after destroying the first cluster of targets and the fighter formation above the complex.
Skins
Aurelia:
Leasath:
Special 1:
Special 2:
Gallery
Ace Combat Zero: The Belkan War
"A variant of a training aircraft, this attack aircraft was developed as an air-to-ground and air-to-ship fighter. Its outdated design lags behind that of current fighter aircraft."
― Hangar menu description
How to Unlock
The F-1 is automatically unlocked and available for use at the start of the game.
Statistics
Speed: 45
Mobility: 30
Stability: 46
Defense: 40
Air-to-Air: 17
Air-to-Ground: 60
Special Weapons
Colors
Standard: Desert green and brown camouflage
Mercenary: Gray desert camouflage pattern
Soldier: Solid gray paint
Knight: Gray and green camouflage
Special: Turquoise body with black spots in the belly, nose and canopy sections
Named Pilots
Gallery
Trivia
Color 5 (C05) in ACJA is replica one F-1 from 6th Squadron (Hikotai). In 2004, F-1 00-8235 was painted in these markings to celebrate the 50th Anniversary of the JASDF (Japan Air Self-Defense Force).
References
Ad blocker interference detected!
Wikia is a free-to-use site that makes money from advertising. We have a modified experience for viewers using ad blockers

Wikia is not accessible if you've made further modifications. Remove the custom ad blocker rule(s) and the page will load as expected.