F-117A -THE iDOLMASTER YUKIHO-
Talk

0
1,862pages on
this wiki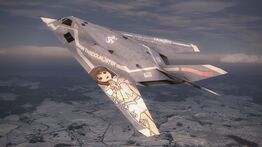 "THE IDOLMASTER, Yukiho Hagiwara Aircraft. A little on the shy side, this boasts impressive moves when trying its best. It's up to you to make this star shine!"
― Official description
The F-117A Nighthawk -THE iDOLM@STER: Yukiho- is a DLC aircraft available in Ace Combat 6: Fires of Liberation. Part of Pack #03, this F-117A Nighthawk is the second aircraft in the THE iDOLM@STER aircraft series. This Nighthawk is outfitted with a light magenta design based on idol Yukiho Hagiwara, a very shy girl who wants to become a singer to leave her cowardly disposition behind.
Performance
Edit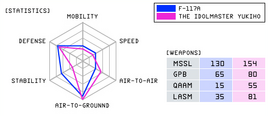 The Yukiho Nighthawk, performance-wise, sees a maxed out air-to-ground rating as well as a needed increase in the air-to-air rating. Ammo count sees a massive increase, too, with the QAAM and the LASM being the most noticable; compared to the original Nighthawk, with 15 QAAMs and 35 LASMs, the Yukiho Nighthawk has a massive 55 QAAMs and 81 LASMs. This makes this aircraft more potent in air-to-air battles as well as for ground-based fighting.
There are, however, some potent weaknesses associated with this skin. Defense, mobility and speed see a decrease, making it not only slower than the original Nighthawk and the other non-DLC attacker aircraft, but also making it the slowest aircraft in the game. Also, stability sees a decrease, making it somewhat harder to perform High-G turns.
Like the rest of the IdolMaster Aircraft, the Yukiho Nighthawk has a unique ability associated with it: the faster this aircraft goes, the more mobile it gets. This negates the decreased mobility, and makes it an even more potent multirole aircraft.
Overall, despite some decreases to stats, this is superior to the original not only in terms of ammo count, but in the mobility increase as it goes faster. This also makes it a great choice for multiplayer battles, and for going for the Night Owl medal, like with the other attacker aircraft DLC.
The aircraft's performance is best defined as an allusion to Yukiho Hagiwara's personality: the idol is somewhat of a shy crybaby, which is reflected in the Nighthawk's statistics, while the aircraft's high speed mobility refers to Yukiho's on-stage performance.