F-14D "VF-1J & VF-1S Valkyrie"
Talk

1
1,779pages on
this wiki
The F-14D "VF-1S & VF-1J Valkyrie" are two downloadable paint schemes in Ace Combat: Assault Horizon. Both aircraft skin will be released together as a set on March 21, 2012 as part of DLC Pack 08 at the price of 600 yen. This DLC offer is limited to Japanese accounts only.[1]
Description
Edit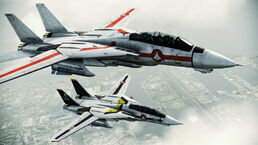 The Valkyrie colors are an homage to certain variants of the
VF-1 Valkyrie
, a swing-wing transforming fighter jet and the flagship aircraft of the
Macross
/
Robotech
anime franchise. The paint schemes were designed to commemorate the 30th anniversary of the franchise, which was born in 1982.
The first color is the VF-1J, a variant of the original VF-1 design developed for squad commanders. The "VF-1J" has a white paint scheme with red stripes running along the sides and wings, bearing the emblem of the U.N. Spacy on the left wing and beneath the cockpit.
The second paint scheme is based on the VF-1S Strike Valkyrie, an attack version with powerful laser weaponry. It is visually identical to the VF-1S, except that its stripes are colored black and yellow spots are displayed in the F-14D's midsection. Furthermore, the vertical stabilizers are painted black, and bear the "Jolly Rogers" emblem of Skull Squadron, a VF-1 team in the Macross universe.
References
Edit