F-15S
Talk

0
1,779pages on
this wiki
For the similarly named Eagle aircraft, see F-15S/MTD or F-15SE Silent Eagle.
The F-15S is a fictional fighter aircraft featured in Ace Combat 2. It is an original F-15 Eagle variant which combines the traditional airframe of the Eagle series with the trapezoidal wings and control surfaces of the YF-22 Lightning II prototype.
Ace Combat 2
Edit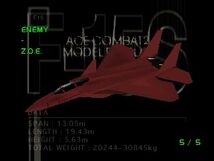 In
Ace Combat 2
, the F-15S is a combat aircraft used by the
Usean Rebel Force
in the late stages of the game.
A lone unit is operated by the Z.O.E. unit "General" in the mission "Kingpin", and is the only example of the aircraft faced in the campaign under normal circumstances.In the "true ending" path, an squadron of 5 Top Gun-class units engage the player in the final mission, "Fighter's Honor".
The F-15S is an special aircraft introduced in Extra mode, serving as the replacement of the Su-35 Super Flanker.
Ally: Royal purple with white trim stripes.
FRND: Lime green with white trim stripes.
Enemy Type A: Deep blue with stripes and emblems.
Enemy Type B: Air superiority gray.
Z.O.E.
The F-15S is the first playable original aircraft design in the entire Ace Combat franchise, and the second one introduced to the series after the XB-10 bomber, featured in "Toy Box".
The F-15S shares its name with a variant of the F-15E Strike Eagle exported to Saudi Arabia. Apart from their designation, however, there are no further similarities.
It is replaced by the F-15S/MTD in Ace Combat: Assault Horizon Legacy, making its existence non-canon.