F-15S/MTD
Talk

0
1,779pages on
this wiki
The McDonell Douglas F-15S/MTD (Short Take-off and Landing/Maneuver Technology Demonstrator) is an experimental aircraft used by the NASA. Developed from a pre-production TF-15A Eagle attack aircraft, it is used as a testbed for new aviation technologies. It is outffited with two-dimensional TVC engines and canards for maximum maneuverability.
Ace Combat 04: Shattered Skies
Edit
"The most manoeuvrable F-15 with thrust vectoring nozzles, ACTIVE, and forward-swept wings."
―In-game description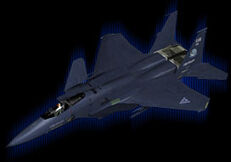 In
Ace Combat 04: Shattered Skies
, the F15S/MTD (erroneously identified as "
F-15 ACTIVE
") is a late-game fighter aircraft. It is unlocked after finishing mission #16, "Whiskey Corridor", alongside the
Su-37 Terminator
and
F-22A
. The purchase cost of the aircraft and second paint scheme is 620,000$ credits, while the third color can be bought for 806,600$.
The ACTIVE, performance-wise is a relatively balaced aircraft. It has a high Air-to-Air rating, high stability and speed and maximum mobility. As well, it has high defense. However, air-to-ground is low. It is armed with seventy-eight missiles and a machine gun with 900 rounds. It can be armed with the XMAA multi-lock weapon and the Fuel Air Explosive Bomb, allowing it to engage both air and ground threats.
Ace Combat 5: The Unsung War
Edit
In Ace Combat 5: The Unsung War, the F-15S/MTD is a high-end fighter aircraft. It is the third and final aircraft of the Eagle aircraft family, and is unlocked alongside the F-15E Strike Eagle upon filling the Kill Rate Gauge of the F-15C (95,450 pts.) A single unit is worth 22,700$ credits.
Of the three Eagle aircraft, it is the one centered the most on air-to-air combat, which is reflected by its statistics; 94 Air-to-Air points and 58 Air-to-Ground points, the latter being a minor yet nonetheless important upgrade over the F-15C's meager secore of 38. The streamlined and aerodynamic design provides the S/MTD with a high 89-point Mobility rating. On the downside, its defense is rather average. It is armed with 82 missiles and 14 XMAAs.
Ace Combat Zero: The Belkan War
Edit
The F-15S/MTD is unlocked along with the special color after completing mission 16 in Mercenary Ace Style. It is an excellent dogfighter, with stats inherited from those in Ace Combat 5.
It is equipped with 82 missiles and its special Weapons are 8 FAEB, 14 XLAA and 16 SOD.
Ace Combat: Assault Horizon
Edit
F-15S/MTD

AC Installment
Ace Combat: Assault Horizon
Content type
Aircraft
PSN Date
November 29, 2011 (US)
November 30, 2011 (EU, JP)
PSN Price
$5.99/£3.19/€3.99/¥720
[Source]
The
F-15S/MTD
is a multirole aircraft in
Ace Combat: Assault Horizon
. It is a downloadable aircraft released on November 30, 2011 alongside the
Tornado GR.4
at the cost of $5.99 for PSN or 480 MS Points for Xbox 360. Unlike past incarnations of the aircraft, the S/MTD featured in
Assault Horizon
has an air data probe at the nose, like it does in real life, and it has a belly mounted gun pod instead of an internal gun. It has one of the lowest missiles payload in the entire game.
Color 1: "Mod Eagle" scheme.
Color 2: Ferris Splinter Camouflage.
Color 3: "Active Stripes" design; ghost white with red and blue stripes.
Special Weapons
Edit
SAAM: AIM-7F Sparrow
LAGM: AGM-88 HARM
Ace Combat: Assault Horizon Legacy
Edit
The F-15S/MTD is also available in Ace Combat: Assault Horizon Legacy. It is unlocked by shooting down ace "Stalker" on mission 17, "Toy Box." It is a highly manuverable aircraft, suprassing that of the F-15SE, and rivaling that of the F-22A Raptor.