F-16C Block60
Talk

0
1,862pages on
this wiki
The General Dynamics F-16 Block60 is an export variant of the F-16C Fighting Falcon, designed exclusively for the United Arab Emirates. This version includes several avionics upgrades, such as an updated sensor suite, conformal fuel tanks and the Grumman AN/APG-80 electronic array.
Ace Combat 5: The Unsung War
Edit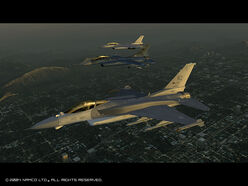 The F-16 Block 60 is the second member of the F-16C aircraft family. It is unlocked once the player fills the F-16C Fighting Falcon's
Kill Rate Gauge
(est. 65450 points.)
Like the F-16C, the Block 60 is a fighter-type aircraft, although it is far superior over the original aircraft in air-to-air performance; compared to the Fighting Falcon, the F-16 Block 60 has over 70% of air combat statistics. Reflecting this is the fact that the Block 60 is armed with XMAAs.
Gun: M61A2 20mm Lightweight Vulcan Cannon
Standard Missiles: AIM-9M Sidewinder
XMAA: AIM-120C AMRAAM (AC5)
Aces Squadrons/Pilots
Edit
As of 2004, the F-16E Block 60 was not yet designated such by Northrop Grumman. Thus, Namco gave it the speculative name of F-16C Block 60.