F-16XF Gyrfalcon
Talk

0
1,869pages on
this wiki
Description
Edit
The F-16, thanks to the number of aircraft left in service was deemed a prime candidate for upgrading. A series of upgrades made this fighter into something that would be viable given the drastically different combat conditions of the 2040s. The F-16XF was also chosen as one of the aircraft that could be made, upgraded, serviced cheaply thus providing a prime competitor for the R-101 series in the export area.
It's upgrades on F-16XF include the new COFFIN system, Larger Flaps, Ailerons, Canards, a new, more powerful engine, redesigned Air Intake, Larger Leading Edge Root Extensions and Flap/Elevator Joint Controls.
An export variant was made for the UPEO in 2045. It is now also known as the F-16XFU Gryfalcon.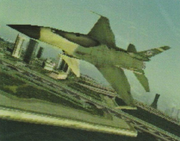 Standard Weapons
Edit
Gun: 20 mm Light Machine Gun
Heavy Gun: 14.5 KPV Heavy Machine Gun
Missiles: AIM-9M Sidewinder
Speed: 40
Defense: 30
Stability: 40
Mobility: 50
Width: 9.45m
Length: 15.08m
Wingspan: 5.36m
Weight: 11372 kg
Max Speed: 2856 km/h (Mach 2.3)
Damage Tolerance: Light
F-16AFTI Advanced Fighter Technology Integration Project
Edit
The closest real life life comparison to the F-16XFU Gyrfalcon was this aircraft the F-16AFTI project aircraft. The USAF used this highly modified fighter for more than 20 years to test new and award-winning ideas in flight control, electronic targeting and cockpit design. A one-of-a-kind aircraft, the Advanced Fighter Technology Integration (AFTI) F-16 made more than 700 flights in 10 different research programs between 1978 and 2000.
from http://www.nationalmuseum.af.mil/factsheets/factsheet.asp?id=612