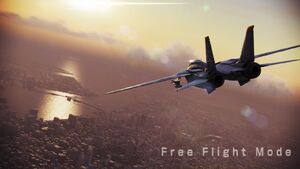 "Fly freely through the skies in any aircraft that you like."
― Sortie description in Ace Combat Infinity
Free Flight is a gameplay mode that allows the player to fly freely by themselves in any Campaign mission area with no enemy forces or music. The timer is either unlimited or a very large number (for example, 30 minutes).
Main Games
Free Flight was first included in Ace Combat 04: Shattered Skies, and later featured in Ace Combat 5: The Unsung War, Ace Combat Zero: The Belkan War, and Ace Combat 6: Fires of Liberation. Many Easter Eggs were included in these games, especially in Ace Combat 5 (see polar bears), to promote the Free Flight mechanic.[1]
Ace Combat 7: Skies Unknown has been confirmed to feature Free Flight for PlayStation VR players,[2] but it has not yet been confirmed for non-VR players.
Infinity
Free Flight was added to Ace Combat Infinity on March 5, 2015, through the DLC Free Flight Ticket & Bonus Item Set. This is the first and only time Free Flight was provided as optional and paid DLC, as well as the first time the stage music played during Free Flight.[3]
Notably, the player can fly freely in any multiplayer Online Co-Op Missions area in addition to the Campaign areas. However, like all other iterations, Free Flight does not support multiple players.
References
↑ SOFTBANK GAMES PlayStation2 特集「ACECOMBAT5 THE UNSUNG WAR」開発者インタビュー P.2. Published 2004. Retrieved November 3, 2014.
↑ Ace Combat 7 PSVR Interview with Kazutoki Kono. MonsterVine. Published on December 12, 2016. Retrieved on December 13, 2016.
↑ Comment on Free Flight article. Published March 5, 2015.
Ad blocker interference detected!
Wikia is a free-to-use site that makes money from advertising. We have a modified experience for viewers using ad blockers

Wikia is not accessible if you've made further modifications. Remove the custom ad blocker rule(s) and the page will load as expected.