GAZE: Arkbird Declaration Summit 2008
Talk

0
1,779pages on
this wiki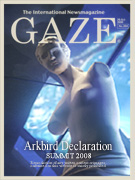 "
GAZE: Arkbird Declaration Summit 2008
" is a magazine published by the GAZE firm in August 21, 2008.
Introduction
Edit
Seen firsthand, the Arkbird is much too majestic to describe merely as a legacy of the Cold War. Even the first glimpse through a shuttle window is enough to evoke a sense of awe so primordial that it leaves you absolutely speechless. The grandeur is far beyond words. The White Bird, floating, in the blackness of space - mankind has done the impossible! Even so, for those close to the Arkbird - those who really know its history - its next mission is cause for both optimism and concern: the Arkbird, the Osean Federation's giant spacecraft, is the site of Summit 2008.
Accelerating the Peace Process
Edit
This year's summit is being hosted by the Osean Federation. Since his inauguration, Osea's President Harling has called for a summit in a place "beyond boundaries." To that end, a previous summit was set to be held in an area of the open sea near the Democratic Federation of Wellow. The area was chosen because of Wellow's permanent neutrality policies. However, summit plans were interrupted by an attempted terrorist attack in a bay nearby, and the summit was immediately canceled. Since then, the world has been wondering where it might find a borderless place. Now, as all of us are here looking at the Earth through the windows of the Arkbird's conference hall, there is a definite sense that we have found that place.
The summit consists of Anea, Central Usea, Osea, Yuktobania, Verusa, Nordland and the newly established Erusean interim government: G7. Osea's intention of inviting Erusea, which is the most rightist country of them all, is to sweep out every precarious factor pertaining to the remaining Erusean military forces and the refugee problems caused by the Ulysses 1994XF04 asteroids by means of global cooperation.
Although Osea and Yuktobania used to be two rival superpowers, they have started down the road for peace and their harmonized policy has agreed even on the collaborative space project. The Mass Driver alongside of Basset Space Center, which is located in Osean territory, is the very first collaborative facility created by the Osean Aeronautics and Space Administration and the Yuktobanian Federal Ministry of Space. For Osea, the Mass Driver Project was a top secret matter, but its promotion and realization owed much to the highly advanced engineering skills and technology of the Yuktobanians.
Osea has been promoting peace policy of this nature, which was sometimes subject to criticism that it was world domination in the disguise of globalism. Even so, considering that Osea was the one that took the most damage when the arms race extended to war, this policy is quite understandable. President Harling, who offered an opportunity to hold talks in outer space for the leaders of the world, is in deserving of acknowledgements not only for his attempts to reclaim order into the aftermath of the war which should be responsible to the previous regime, but also for his efforts to create new frontiers and employment for the entire world.
Road To A Maneuverable Orbiting Spacecraft
Edit
Some of you may be wondering why this ship was selected to be the site of the summit. You will find out when you trace with us the ship back to its unparalleled origin.
In the 1980s when Osea and Yuktobania were competing espacially in the realm of the expansion of armaments, the world saw "a nuclear weapon strategy" represented by declaration and deployment of nuclear weapon. The rivalry between both countries kept going balanced from MAD (Mutual Assured Destruction) to CS (Countervailing Strategy). It took almost no time for both to move on so far to SDI (Strategic Defense Initiative). During this rivalry, the world witnessed revolutionary improvements of strategic weapons like ICBM and highly organized platforms such as early warning satellite and recon satellite.
As ICBMs acquired longer range and strategic missile silos were deployed over wide areas, interceptor missile technology advanced sharply as well. In addition to existing air-defense systems like surface-to-air missiles, newly developed weaponry entered into operation. Some of them were called SBL (Satellite Based Laser), ASAT (Anti Satellite Laser) which was desighed to fire kinetic energy and were deployed in outer space. These new systems made possible multiple and more effective interceptions against ICBMs. On this level, ICBMs were forced to find their way to more flexible orbit change programs and MIRV as well as to becoming immune to the IR sensors of early warning satellites.
However, there was a possibility that Yuktobanian attacker submarines representing missile launch platforms were more highly stealthified and organized than to be intercepted by Osea's SBL. In response, the bureau of higher research in the Department of Defense needed to come up with "Maneuverable Orbiting Spacecraft" in order to deploy it as a difference maker. This was about a ship afloat high above the sky orbiting the Earth without landing. The ship was going to be employed to detect and intercept the hostile missile launch with high-powered laser equipped with it. According to the plan, even if the missile launch site is far away from the ship's orbit, it is still capable of intercepting the missile by maneuvering itself with "atmospheric orbit change" and apprehending it within its engagement zone. The ship was designed to cope with any missile launch in any phase.
Overhead, there used to be unimaginable competitions. The war itself came to a close before a corroborative experiment took place, but another fear was then closing in to the whole world. It was an asteroid named "Ulysses".
Entwining Destiny
Edit
In 1996, the president of FCU announced that "the Ulysses 1994XF04" was about to impact the Earth. Observation and data analysis reported that it was highly likely to be Usean continent alone to be hit by the asteroid. This was, however, not an opportunistic situation for all other countries, for the asteroid was going most likely to break through the Roche limit of the Earth. In other words, if the asteroid was successfully intercepted by some means (this referred to Stonehenge, the anti-asteroid cannon built mainly by the FCU), tiny pieces of the asteroid spreading over would be lethal threats to the majority of satellites launched into the orbit in the past. Furthermore, those decimated satellites were considered to keep the orbit afterwards.
There was no doubt about Osea and Yuktobania being willing to participate in the project of FCU to shoot down the asteroid, but it was almost impossible for both of them to do so for lack of human resources and financial affordability because of the postwar chaos. Each nation had no other choice but to restore order lost in the war.
Ark After Stonehenge
Edit
Osea and Yuktobania began to further relationship clearly around the beginning of 1999, when pieces of "Ulysses" ironically began to assault the Earth. Both countries, no longer obsessed with military power balance, began their way towards reconstruction of the world that went through with "Ulysses" and "removal of space debris". Thereupon, the conceptual "Maneuvable Orbiting Spacecraft", which was destined to glare at the world from above the sky, came to life.
According to the blueprint of a maneuvable orbiting spacecraft prior to actual construction, a domed Airborne Laser unit made in Osea was expected to be mounted on its upper hull, but a more effective Yuktobanian anti-space debris high power laser unit replaced it. Plus, in order to destroy and repel too large matters for ABL to take care of, the spacecraft was loaded with subversive missiles. However, regarding the more powerful ABL unit which was about to be attached to the lower hull, the agreement was made between two countries not to employ it. Owing to this change of design, the ship was impossible to launch firepower toward the ground. Still, the decision made by two countries to transform SDI weaponry into a peacemaker revolutionized technology and had a major impact on neighboring countries.
The "Arkbird", a maneuvable orbiting spacecraft, entered service as if it was a suitable replacement for Stonehenge, which combatted Ulysses but never became a solution to the offsprings it left behind. The Arkbird lived up to more than the expectations till now by securing as good as 80% of space around geosynchronous orbit. With the "Arkbird" having unparalleled potential, a project is going on of utilizing it as an experimental and developing space platform. Of course, it will continue to deal with the space debris scattered around the orbit, but in the very near future it is becoming the first step to realization of a permanent space station project being promoted by Osea and Yuktobania. Central Usea and Verusa have already declared participation in this project and it is expected to become the world's biggest project. This signifies that this project will be a link to making a new world order and the "Ark" that carrys us on board will definitely be an invitaiton to the new world.
Arkbird Declaration
Edit
The representatives of each country were in favor of Osea and Yuktobania for promoting the peace policy, which enabled them to put an end to the Cold War and bring drastic changes to the map of world politics. They also concluded this summit by stating as follows:
"This conference has marked the accelerating point of social justice and economy, respectively based on democracy and market principles. Concerning disarmament and nonproliferation of nuclear weapons, the effectuation and promotion of CTBT (Comprehensive Nuclear Test Ban Treaty) are required and the same is true for NPT. Problems posed by an excess of plutonium must be dealt with quickly and START 2 (STrategic Arms Reduction Treaty 2) needs to get started. We are prepared to build and further new a partnership with the Usean Continent that suffered a historic natural calamity. We are witnessing the dawn of a new era where frictions are replaced by friendships.
This world is all yours. As long as you are at peace, the whole world is your resource. Into the new horizon before us and into outer space far beyond, our voyage begins."