Golden Axe Plan Private Army
Talk

0
1,779pages on
this wiki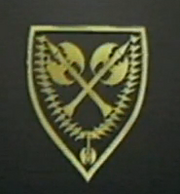 The
Golden Axe Plan Private Army
was first introduced at the start of Mission 18
Alarm Clock
. Its objective was to continue what the
Valahia
was probably supposed to do; the San Francisco Attack Mission. The Valahian commanders, however, turned back on the plan.
The Golden Axe Private Army was founded by Andre Olivieri, the CEO of the Olivieri Life Insurance. It's purpose is to proceed the Golden Axe plan and reap the benefit by war damage insurance created by the crisis after the threat of war. Most of its soldiers are refugees from the Valahian terrorist group. The strong economical backup from the OLI (Olivieri Life Insurance) turned it into an army carrying terrible firepower. It includes a Spiridus, refitted with Hi-TASM's and also includes 3 Orgoi Bombers which appear in the Mission 18, and planned to kill the crew of AWACS Canopus and the Antares Squadron because they knew the truth and Milosz Sulejmani 's investigation targeted them. The Antares began to dismantle the group by taking their airbase in Nevada and destroying the Spiridus at Lake Tahoe.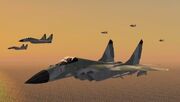 The Private Army proceeded to attack San Francisco with its remaining forces, only to be decimated by Antares Squadron and the USN 3rd Fleet. The Varcolac squadron of Valahia (The ex-Rigel squad) joined the private army and appeared in the phase 2 of the Attack on San Francisco with the fictional high-mobility fighter GAF-1 Varcolac. Despite the aircraft's superiority and the synchronized attacks by the Varcolac Squadron, Antares shot down the squad, and Sulejmani was killed by Antares One in an extended personal engagement.
There is an underground database under the main building of the OLI which is a storage of the Golden Axe Plan data (which the player has to destroy to finish the campaign.) Olivieri stormed out of the safety of his HQ and screamed at the victors, only to be shot by Antares. Martinez eventually secured the enemy HQ and revealed OLI's true colors. The Golden Axe Plan was dismantled shortly after.
Equipment
Edit