The Head's Up Display (commonly HUD) is a very important feature included in every Ace Combat game to date. Formats and general position of the HUD vary and are tweaked throughout the whole series, though most commonly include: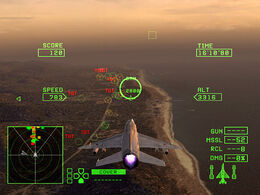 Ammo counts of the ship's remaining ammo
Damage, a general scale of the current condition of the ship
Speed, in MPH. Can be changed to KPH via the options menu
Alt., in feet (can be changed to meters via options)
Score, current point score.
Time, amount of time remaining to complete mission (if time is up, mission failed)
Wingman Command, in the games it appears in
Radar, shows where the player and other aircraft and targets are in the combat area
Ad blocker interference detected!
Wikia is a free-to-use site that makes money from advertising. We have a modified experience for viewers using ad blockers

Wikia is not accessible if you've made further modifications. Remove the custom ad blocker rule(s) and the page will load as expected.