Heierlark Air Force Base
Talk

1
1,869pages on
this wiki
"Heierlark meant a lot to us. Our flight training was here on this airfield. On the base, we were surrounded by young cadets eager to listen to war stories. Somewhere along the line, we became the most experienced pilots in the war. Us, Captain Bartlett's nuggets."
― Kei Nagase, talking about Heierlark

Heierlark Air Force Base is a location is first mentioned and seen in Ace Combat 5: The Unsung War, and later seen in Ace Combat Zero: The Belkan War. The area around the base is made up of rolling hills and low mountains. Due to its high-latitude location, the temperature is usually low with minor arctic conditions.
The Belkan War (Op. Stone Age)
Edit
Heierlark Air Force Base originally acted as a Belkan air base which was used against the Allied Forces during the Belkan War. The base eventually discontinued operations when South Belka was overrun by the Allies. The base assisted the 66th AFU Galm during their mission to eliminate resistance of the Belkan Army, who still unwilling to disband by supplying them with fuel and armaments. Thanks to the base, Galm Team managed to eliminate the resistance.
After the Belkan War and the acquirement of South Belka, it renamed North Osea. Heierlark became North Osea Air Force Base for Osean Air Defense Force trainees.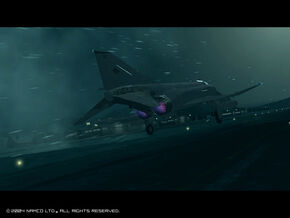 The legendary Wardog Squadron was later trained here, before being reassigned to Sand Island Air Force Base. After an incident in the Eaglin Straits which saw the first appearance of the Yuktobanian submarine Scinfaxi, resulting in the loss of two Osean Maritime Defense Force Nimitz-class aircraft carriers OFS Vulture and OFS Buzzard, Wardog Squadron did not have enough fuel to return to Sand Island, and were instead ordered to land at Heierlark Air Force Base.
After refueling and resupplying, the Wardog Squadron pilots received orders to take many of the trainees back to Sand Island Air Force Base.