| | |
| --- | --- |
| | All right, gentlemen, it's time to clean house! |
Iyuli is a designated "Special Economic Zone" of Russia. It is comprised of the Volgograd Oblast and the northern part of the Rostov Oblast, including their central cities of Volgograd and Rostov-on-Don, respectively. Iyuli is located near Ukraine and the Black Sea.[1]
History
Iyuli was one of several regions formed in Eastern Europe in the 21st century to accomodate refugees and survivors of the Ulysses Disaster. The buffer zones were later infested by crime and disease, and were the site of various armed conflicts and civil unrest.
The unstability in the region later subsided with the intervention of Wernher and Noah Enterprises, which offered reconstruction work to the refugee population. The company's local weapon factories were later used by insurgent groups to obtain arms.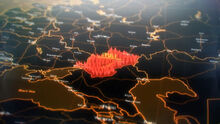 In 2019, a regional terrorist network kidnapped the "Greymen" business committee and held them hostage in a Wernher factory in Iyuli. A rescue operation was carried out by the mercenary Bone Arrow Squadron and commandos from the United Nations Forces.
Gallery
Trivia
Iyuli could come from the Russian word for "July," which is phonetically written as Iyul (Июль).
The regional map of Iyuli changed significantly between the trailers of Ace Combat Infinity. The original Teaser 00 contained explicit references to the geography of the Ukraine-Russia border, but the "Open Beta Test 02" trailer omitted such details, and the area was labeled "E-04".
References
Ad blocker interference detected!
Wikia is a free-to-use site that makes money from advertising. We have a modified experience for viewers using ad blockers

Wikia is not accessible if you've made further modifications. Remove the custom ad blocker rule(s) and the page will load as expected.