The JA 37 Viggen is a STOL (short take-off and landing) attacker aircraft.
It made its debut in Ace Combat 2 and later appeared in the handheld titles Ace Combat X: Skies of Deception and Ace Combat: Joint Assault.
History
Strangereal
The only recorded use of JA 37s was during the Aurelian War where it was sporadically used by the Leasath Air Force,[1] which included an ace pilot with the callsign "Saber".[2]
Joint Assault universe
The aircraft was available to Antares Squadron during the Valahia Crisis.
Game analysis
We've still got some work for you, too, so don't slack off now.

This article or section is a stub. You can help by

expanding it

.
Ace Combat: Joint Assault
Before the two planes take off, capture both of them in one shot. Got it?

This article or section may require more images or images of better quality.
In this game, the JA 37 Viggen is known as the AJS 37

DESCRIPTION

A multirole developed specifically for short takeoffs and landing (STOL).
AVAILABILITY

Complete "Spotlight Bravo". Costs $19,000.
STATISTICS

Speed: Medium
Air-to-Air: Medium
Air-to-Ground: Medium
Mobility: Medium
Stability: Medium
Defense: Medium
WEAPONS

STDM x84
HACM x56
LGWM x112
HVWM x28
Unguided Bomb x17
COLORS

C01: Green forest camouflage.
C02: Gray body adopted by JA 37s.
C03: Striped two-color gray body.
C04: Blue fuselage with yellow wing trim. Modeled after the Swedish national colors.
C05: Lightning-themed body.
C06: Dark gray body with gold trim.
Ace Combat X: Skies of Deception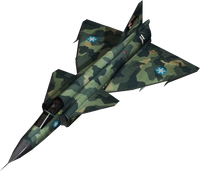 Statistics

Skins
Aurelia: AJ 37 camouflage
Leasath: Flygvapnet air superiority gray
Special 1: Flygvapnet's new paint scheme. Two-tone gray
Special 2: Blue body with yellow wing trim. Modelled after "Blå Petter" (Blue Peter), the Viggen painted in this color to celebrate the 75th anniversary of the Swedish Air Force in 2001.
Named Pilots
Saber - Found in Prelude. Spawns with the final JA 37 formation when 7 landing ships and most of the fighters are destroyed
Gallery
Ace Combat 2
In this game, the JA 37 Viggen is known as the SF-37
Gallery
Trivia
References
Ad blocker interference detected!
Wikia is a free-to-use site that makes money from advertising. We have a modified experience for viewers using ad blockers

Wikia is not accessible if you've made further modifications. Remove the custom ad blocker rule(s) and the page will load as expected.