Lighthouse is a space elevator located on the Spring Sea,[1] near an undetermined city.[2] It is defended by an aerial warship designated as FAS.[3]
Design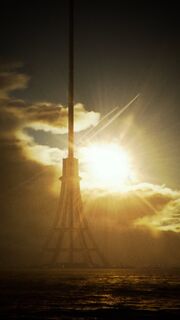 Lighthouse reaches 100,000 km (~62,137 miles) into the sky.[3] No further details on the design of Lighthouse are known.
History
The FAS was deployed against an Osean F-22A Raptor, which was engaging Erusian Su-30Ms near Lighthouse. FAS launched its MQ-101 UAVs to engage the Osean aircraft. Currently no other details are known about this engagement.[4]
Gallery
Trivia
Lighthouse is the tallest structure in the series, surpassing the Gaiuss Tower in Ace Combat X: Skies of Deception.
If Strangereal's Earth features the same physics as our real Earth, the top of Lighthouse surpasses the threshold for geostationary orbit by about 64,200 km. Unless Lighthouse is made of an incredibly-strong material, this would mean that Lighthouse would not be able to withstand the lateral forces produced by the planet's rotation, causing it to eventually crash.
References
↑ 1.0 1.1 Ace Combat 7 Interview: Producer Talks PS4 Pro, VR, Fictional World, Ace Combat 4/5 Comparison and More. DualShockers. Published December 15, 2016. Retrieved December 16, 2016.
↑ 3.0 3.1 Famitsu interview with Kazutoki Kono. Officially published on December 10, 2015.
Ad blocker interference detected!
Wikia is a free-to-use site that makes money from advertising. We have a modified experience for viewers using ad blockers

Wikia is not accessible if you've made further modifications. Remove the custom ad blocker rule(s) and the page will load as expected.