Machine Gun Pod
Talk

0
1,896pages on
this wiki
The Machine Gun Pod is a secondary weapon which appears in Ace Combat: Assault Horizon and Ace Combat: Assault Horizon Legacy.
Ace Combat: Assault Horizon
Edit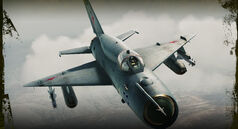 The Machine Gun Pod is a secondary weapon compatible with only two aircraft, the
MiG-21bis Fishbed
and the
Su-25UT Frogfoot
. In both planes use UPK-23-250 macine gun pods. Within the game, it is known as "MGP".
When the firing button is pressed, both pods will fire simutaneously. Unlike the standard machine gun, the MGP is not governed by a heat system, but has a limited ammunition pool, with the MiG-21bis carrying 540 rounds and the Frogfoot 680 by default. Ammo loads can be increased by using the "Extra MGP" skill.
The MGPs are most effective at short range combat, but are considerably inaccurate at medium and long range. They have a firepower comparable with that of main guns, though both can be fire simultaneously to deal tremendous damage to a target. While not a very practical weapon in most instances, the combined firepower of the regular gun and gun pods can cause significant damage to bombers, against whom missiles are somewhat ineffective. This makes the MiG-21 a surprisingly effective bomber killer.
Ace Combat: Assault Horizon Legacy
Edit
In Assault Horizon Legacy, Machine Gun Pods (named "GPD") are a secondary weapon available to a handful of aircraft: theF-4E Phantom II,X-29A,Su-25 Frogfoot,F6F-5 Hellcat and the A6M5 Type Zero Carrier Fighter.
The weapons function in a different way from those featured in Ace Combat: Assault Horizon. Instead of firing as long as the user holds the trigger down, each use of the weapon will cause them to fire on their own for a six-second period before a four-second "cooldown". Like their original incarnation, the pods can be fired simultaneously with default guns to cause maximum damage to most targets.