Ad blocker interference detected!
Wikia is a free-to-use site that makes money from advertising. We have a modified experience for viewers using ad blockers

Wikia is not accessible if you've made further modifications. Remove the custom ad blocker rule(s) and the page will load as expected.
On This Day
On December 5...
2015: Ace Combat 7 is officially announced at PlayStation Experience.
Community Poll
Would you buy a PS4 and/or PS VR, considering Ace Combat 7?
Featured Article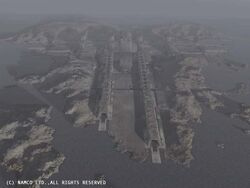 Megalith
was a Erusian superweapon designed to replace Stonehenge in combat effectiveness. It weaponized the Ulysses fragments in Earth's atmosphere by painting them with targeting lasers, firing missiles at them, and causing them to crash on the planet. ISAF quickly formed the Mobius Squadron to destroy the facility before it could cause more damage and launch a large missile from its central silo.
(read more...)
Ace Combat @ Social Media