Featured Article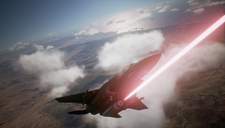 The
Tactical Laser System
(TLS) is a weapon that made its first appearance in
Ace Combat 5: The Unsung War
and has been featured in multiple
Ace Combat
titles since. Typically, the TLS is depicted as an experimental weapon that can only be utilized on select aircraft. It will once again be available to the player in the upcoming
Ace Combat 7: Skies Unknown
.
(read more...)
What is Ace Combat?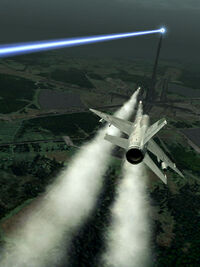 Ace Combat
is a video game series where the player takes control of fictional pilots who are caught up in the winds of war. Typically, the story progresses in such a way that the player character becomes the most powerful of all of their allied forces, and is considered a legend by the end of the game.
Most gameplay in Ace Combat involves the direct control of aircraft, where players will attack or defend from enemy forces in the air, on the ground, and in the sea. The games are also well-known for their massive superweapon battles, which border on the line of fantasy involving massive chemical lasers or large anti-asteroid railguns.
Parents, if you are interested in learning more about
Ace Combat
or Acepedia,
please read our Parent Page by clicking here!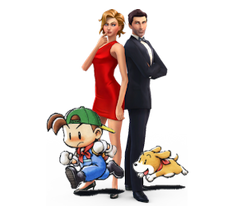 Simulation Games
Go to these sites for info or for help with your own wiki!
Ace Combat • Armored Core • Cube Life • Elite: Dangerous • FarmVille • Goblins of Elderstone • Hay Day • Jalopy • Jurassic World Evolution • Megapolis • Miitopia • Minecraft • Minecraft Pocket Edition • Minecraft Story Mode • MySims • Neko Atsume: Kitty Collector • Nintendogs • Planet Coaster • Princess Maker • Professor Layton • RollerCoaster Tycoon • Rune Factory • Shoppe Keep • SimCity • The Simpsons: Tapped Out • The Sims • Spore • Surviving Mars • Township • Train Sim World • Truck Simulator (American & Euro) • Two Point Hospital • VA-11 HALL-A: Cyberpunk Bartender Action • Virtual Villagers • Viva Piñata • War Robots • World Neverland
Want your community included? See how!
See all of our Simulation gaming wikis!

Apps & Social Media
Take Acepedia on the go with FANDOM's official mobile apps, follow us on social media, and chat with members in our Discord server!

On This Day
On August 18...
No notable events occurred on this date in
Ace Combat
history.
Community Poll
On which platform are you planning on purchasing Ace Combat 7? (If multiple, choose the most important one to you.)