MiG-33 Fulcrum SS
Talk

0
1,887pages on
this wiki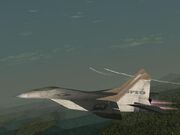 The MiG-33 Fulcrum SS is a fictional variant of the MiG-29A Fulcrum in the world of Ace Combat 3: Electrosphere.
Ace Combat 3: Electrosphere
Edit
In Ace Combat 3, the MiG-33 is a basic frontline fighter operated by the Universal Peace Enforcement Organization (UPEO) in the original Japanese and Export versions. In the latter, it is unlockable by completing mission #01, "Transport", with an A-rank.
Armaments
Edit
The aircraft shares its name with two real-life Mikoyan-Gurevich aircraft: the cancelled Izdeliye/Project 33 and the MiG-29M Super Fulcrum, a multirole upgrade of the original -A model designed in the 1980s.