Multi-Purpose Burst Missile
Talk

0
1,779pages on
this wiki
The Multi-Purpose Burst Missile (MPBM) is an special weapon introduced in Ace Combat Zero: The Belkan War.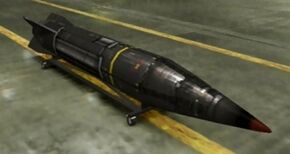 Ace Combat Zero: The Belkan War
Edit
The MPBM is, as the name implies, a downsized ballistic missile modified for aircraft use. In the ending mission "Zero", it is used by Solo Wing Pixy in the second stage of the battle, after the ADFX-02 Morgan's Tactical Laser System has been destroyed.
The Multi-Purpose Burst Missile is the second special weapon of the ADFX-01 Morgan, which can be bought for 193,500$ credits. Upon impact with a target, the missile detonates in a massive explosion. However, the weapon's main disadvantage is the slow recharging rate. As well, the missile's accuracy at medium to long range is somewhat low, making it easily avoidable for enemies like plot-important aces.
The concept and functionality of the Multi-Purpose Burst Missile derive are inherited from the "SDBM", the special weapon used by the conceptual "ADA-01 ADLER" aircraft.