Multi-Purpose Burst Missile
Talk

0
1,863pages on
this wiki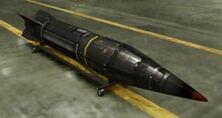 The Multi-Purpose Burst Missile was an experimental missile developed by the South Belka Munitions Factory. It was created for use by the ADFX-02 Morgan, the experimental testing aircraft buiilt by the company.
One of the weapons created by the Munitions Factory for the Morgan, the MPBM was developed for area-of-effect engagements. It was designed mainly for air-to-surface use, though it could be used without major problems on enemy aircraft.
The missile employs a unique warhead loaded with a polynitrogen compound. Having very high sensivity, the creators of the weapon reduced its power to a tenth of its original strength. The polynitrogen warhead gives it extremely high power, allowing a pilot to destroy entire clusters of enemy targets in a single impact.
Developments after the war led to an evolution of the MPBM, the SDBM. Upgrades in technology allowed it to harness the full power of its polynitrogen compound, giving it power comparable to a tactical nuclear warhead.
Ace Combat Zero: The Belkan War
Edit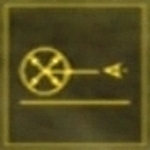 The MPBM is, as the name implies, a downsized
ballistic missile
modified for aircraft use. In the ending mission "
Zero
", it is used by
Solo Wing Pixy
in the second stage of the battle, after the
ADFX-02 Morgan
's
Tactical Laser System
has been destroyed.
The Multi-Purpose Burst Missile is the second special weapon of the ADFX-01 Morgan, which can be bought for 193,500$ credits. Upon impact with a target, the missile detonates in a massive explosion. However, the weapon's main disadvantage is the slow recharging rate. As well, the missile's accuracy at medium to long range is somewhat low, making it easily avoidable for enemies like plot-important aces.
The concept and functionality of the Multi-Purpose Burst Missile derive are inherited from the "SDBM", the special weapon used by the conceptual "ADA-01 ADLER" aircraft.