| | |
| --- | --- |
| | All right, gentlemen, it's time to clean house! |
The Nimbus missile is a type of cruise missile developed by Estovakia during the Emmeria-Estovakia War of 2015.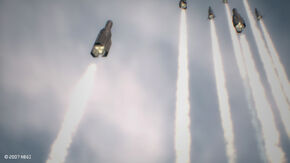 History
The Nimbus missiles were first seen in action during the Estovakian Invasion of Gracemeria in late August. After most of the Estovakian Air Force's invading forces had been destroyed by the REAF, the P-1112 Aigaion began launching volleys of missiles at the city, wiping out most of the defending forces and forcing the survivors to stage a mass retreat.
Months later, the Emmerian Air Force encountered the Nimbus missiles during their push through central Anea, guided by guidance drones. Sustaining several casualties during the attack, the Emmerian fighter pilots managed to push through and destroy the targeting aircraft, temporarily stopping the threat from the Aigaion. These drones were later seen again during the invasion of San Loma, where they attempted to wipe out the invading Emmerian troops. However, they failed in their task, and most drones were either shot down or fled back to their mothership.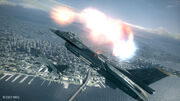 In February 20, 2016, Nimbus missiles were used by the Aigaion as a last resort during the Emmerian attack on the Estovakian Aerial Fleet. The Aigaion was finally shot down, and the threat of the Nimbus missiles had been stopped.
Design
The Nimbus missiles are special cruise missiles, armed with a high-explosive warhead designed to detonate in mid-air (airburst). The warheads used allow the explosion to remain airborne for several seconds before dissipating, allowing them to damage aircraft that survive the initial attack, a trait shared with the ballistic missiles used by Belka and Yuktobania. To attack targets at long range, the Aigaion launches marker UAV drones that fly towards their target. However, the Nimbus cannot launch beyond visual range by itself, meaning that if the targeting drones are destroyed, long range strikes are impossible. However, if the situation demands it, the missiles can be fired at close range by the Aigaion.
Sources
Ad blocker interference detected!
Wikia is a free-to-use site that makes money from advertising. We have a modified experience for viewers using ad blockers

Wikia is not accessible if you've made further modifications. Remove the custom ad blocker rule(s) and the page will load as expected.