Nimrod MR Mk.2
Talk

0
1,779pages on
this wiki
The
Nimrod MR Mk.2
is a maritime reconnaissance aircraft designed by British brand de Havilland. The MR2
standard, entering service in 1975, includes a general modernization of the airframe, such as an upgraded electronic suite, mid-air refueling capabilities and wing-mounted ESM pods. It was retired from service in March 31, 2010, a year earlier than its original date, due to financial reasons.
Ace Combat 5: The Unsung War
Edit
The Nimrod makes a brief appearance in mission #03, "Narrow Margin". In the mission's second half, a flight of
YAF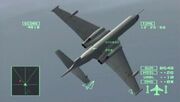 Nimrods assault the
OFS Kestrel
and her accompanying fleet with missile fire. Being a large-type aircraft (actually a maritime patrol aircraft), they have a greater damage threshold than fighters, being able to take three missile hits before being destroyed.
Ace Combat 6: Fires of Liberation
Edit
The Nimord is featured in mission #05, "Anea Landing". If Operation C (Kijera Oil Fields, Marigold fleet) is completed first, then the second half of the mission will involve defending the Marigold and her fleet from an Estovakian air attack, which includes a group of Nimrods.
Occasionally, Nimrods shot down in Narrow Margin will crash into the Kestrel's deck. However, this causes no damage whatsoever to the ship, and the missions proceeds as normal.
From atop the aircraft resembles a SU-25TM Frogfoot