Okchabursk
Talk

0
1,779pages on
this wiki
Okchabursk
is a city located at the northeastern tip of the Pobeda Peninsula in the
Union of Yuktobanian Republics
. Information on the city is generally scarce, thus not much is known about it.
In 2010, as the Circum-Pacific War raged on, Okchabursk presumably remained untouched during the advance of the Osean military towards the Yuktobanian mainland, however this remains unconfirmed due to the relatively small amount of information on the city available.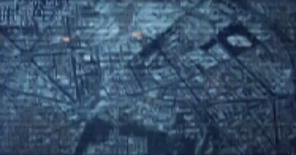 Some time between September and October 2010, the Osean spacecraft Arkbird was sabotaged and subsequently hijacked by a group of members of the Principality of Belka, who were still angered at the Allied Forces' victory in the Belkan War, 15 years ago.
In mid-December, the Belkan military managed to ship a single V1 nuclear warhead out of the Yering Mine in northwestern Belka onto the Arkbird, before a group of unidentified black aircraft raided the mine and sealed its entrance via a cave-in.
On December 19, the aircraft carrier OFS Kestrel's intelligence ship Andromeda detected an encrypted Belkan transmission. They proceeded to decrypt the message, which read as follows:
N-attack by A-Sat on Okchabursk to
commence at 1400 hours
At 1000 hours, the Ghosts of Razgriz sprung from the Kestrel towards the Ceres Ocean to intercept the Arkbird. The spacecraft, which was loaded with the V1 from the mine, was then critically damaged, and crashed into the Ceres Ocean in a massive explosion. Fortunately, no trace of nuclear fallout was found at the crash site.
Presumably, the name of the city Okchabursk is distorted Oktyabr'sk (Октябрьск, October City).