Okchabursk
Talk

0
1,900pages on
this wiki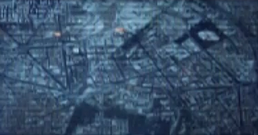 Okchabursk is a city in northern Yuktobania.
In 2010, the city was one of the major inhabited areas in Yuktobania that remained untouched by the Circum-Pacific War. In December, the city was the target of a plot by the Gray Men, who planned to use the Arkbird to release a nuclear weapon stolen from the Yering Mine in Mount Schirm in order to escalate the war.
An encrypted message signaling the start of the attack was detected by the OFS Andromeda intelligence ship on December 19. In response, the Razgriz Air Command Squadron, under direct order from Vincent Harling[1], intercepted the Arkbird over the Ceres Ocean, destroying it before it arrived to Okchabursk. Despite the spaceplane exploding underwater, no traces of nuclear radiation were found.
Presumably, the name of the city Okchabursk is distorted Oktyabr'sk (Октябрьск, October City).
References
Edit