Operation Katina
Talk

0
1,864pages on
this wiki
Operation Katina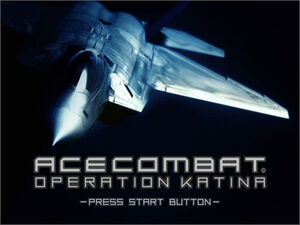 Ace Combat 5: The Unsung War
Date
2006
Part of
Location
Casus belli
Elimination of a rebel
Erusian
military force
Outcome
Destruction of Free Erusea
Territorial Changes
N/A
Belligerents
Commanders
Unknown
Strength
Casualties
None
Over 200
Operation Katina is an operation formulated by the Independent State Allied Forces in the year 2006.
One year after the end of the Usean Continental War, Erusea's government came under reform by the governments of the ISAF. The new Provisional Government took much criticism within Erusea. Some of Erusea's military did not approve of this forced reform and rose up to attack the ISAF once again. A group of Erusian military officers and personnel called themselves 'Free Erusea' and captured an old munitions factory, giving them an array of weapons to their disposal.
A single aircraft, along with the support of a single AWACS was dispatched by ISAF HQ. The ace pilot Mobius One was selected alone for this mission, since ISAF GHQ had made the astounding announcement that Mobius One's fighting ability matched that of an entire fighter squadron. AWACS Sky Eye had also been dispatched in order to fully accommodate Mobius One's capabilities.
The operation took the small strike force across the entire Continent. Combat had broken out again in areas such as Mount Shezna and Newfield Island. The Free Erusian Forces were reliant on transports to fully back their engagements, but these transports were targeted and destroyed. The loss of these transports somewhat hinder the Free Erusian Forces. However, their presence was seen in full force near the end of the conflict.
Large C-5 Galaxy transports, aircraft carriers, destroyers, and bombers were also encountered by Mobius One. As Operation Katina neared its end, the final mass of Free Erusian Forces amassed at their headquarters, off the Erusian coastline. This HQ was a gigantic runway, capable of supporting all air activities. There were also facilities for naval operations and petroleum development/usage. This entire facility was attacked and destroyed by Mobius One. As the operation ended, an unexpected final attack was launched against the ISAF Ace. Six X-02 Wyvern aircraft (also known as 'Switchblades') had appeared on the battlefield and attacked Mobius One. At the time, these aircraft were believed to be the best aircraft on the planet. Mobius One became entangled with the Wyverns and a large battle broke out. In an amazing show of skill, Mobius One defeated the X-02s and returned to base.
The Erusian threat was neutralized. Erusian unmanned aircraft were discovered by ISAF forces and were being used to further advance their Air Force's technological strength; Erusian advanced aircraft, known as X-02s, were also dispatched. The Erusian government reform proceeded smoothly and hostilities have ceased on the Usean continent for now.
Aircraft/Ships/Weapons
Edit
Independent State Allied Force
F-22A Raptor 'Mobius 1'
E-767 'Sky Eye'
KC-10A Extender

Free Erusea
F-15C Eagle
F-16C Fighting Falcon Block 40
F-22A Raptor
Su-37 Terminator
S-32
MiG-21bis (Izdelyie 75B) 'Fishbed-N'
MiG-31B 'Foxhound-A'
Mirage 2000-5
Typhoon F.2
B-52H Stratofortress
C-5B Galaxy
C-130H Hercules
AH-64A Apache
CH-47D Chinook
Nimitz-class aircraft carrier
Mars-class supply ship
Pegasus-class missile hydrofoil
Completion of Operation Katina unlocks the special paint scheme for the F-22A Raptor in Ace Combat 5, which has the Raptor in Mobius One's paint scheme, complete with ISAF markings and ribbon insignia.
In the air refueling mission, an Osean flag can be seen in the tail of the KC-10 Extender. This tanker could be under lease for the ISAF or maybe Osea also took part on Operation Katina. It could also only be a reused KC-10 model from AC5's campaign.
Katina is also the name of a planet from Nintendo's game series, StarFox. The operation's name may referring in particular to StarFox: Assault, game in which both Nintendo and Namco were part of the development team.
Related Articles
Edit