SPOILER WARNING -- FULL ARTICLE
This article is about an in-universe event. For the in-game mission, see First Contact.
"This mission is crazy. All our commander thinks about is looking good for the General Staff Office."
― Spare Squadron pilot[2]
Operation Two Pairs[1] was a battle during the Lighthouse War.
Prelude
Two Osean Air Defense Force squadrons, Cyclops and Strider, were conducting reconnaissance over the Stonehenge ruins. For unknown reasons, they were forced to abandon their previous route back to base and directed to take a new route, one that led right through Yinshi Valley, which was home to Erusean radar and anti-aircraft sites.
The Battle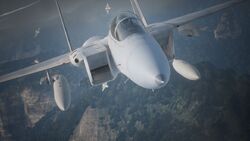 In order to rescue them, the OADF deployed Spare Squadron—likely due to the unfavorable flying conditions in the valley. During the battle, Spare Squadron successfully destroyed the radar and anti-air sites, but not before being detected. The Eruseans deployed MQ-99s, but Spare squadron shot them down, allowing their allies to withdraw from the airspace.[2]
Following their allies' withdrawal, Mihaly entered the airspace and was engaged by Champ, despite AWACS Bandog advising him not to.[2] The outcome of the operation is currently unknown.
Aftermath
We've still got some work for you, too, so don't slack off now.
This article or section is a stub. You can help by
expanding it
.
References