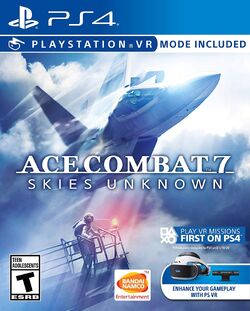 Summary
Ace Combat 7: Skies Unknown is the newest installment in the Ace Combat series, confirmed to release in 2018 for the PlayStation 4, Xbox One, and Steam. It is the first numbered game in almost a decade, as well as the first console Ace Combat game in nearly a decade to return to Strangereal. Ace Combat 7 will also feature virtual reality support exclusively through the PlayStation VR peripheral.
Videos
Latest News
2017
June 13 - Our first gameplay videos are available, and a Famitsu article is out! F-14D and F-2A are confirmed playable! F-4E is also in, but not confirmed playable yet.
June 9 - E3 trailer is released! MiG-29, Su-33, Typhoon, F-15E, F-35C, and Gripen E are confirmed!
May 16 - Kazutoki Kono announces in a press release that AC7 will be delayed to 2018. More information will be released at E3 2017.
January 26 - The full title is Ace Combat 7: Skies Unknown, and it's coming to Xbox One and PC! A new extended trailer is revealed! 2-player local multiplayer is announced! VR is confirmed PlayStation-exclusive.
January 21 - AC7 will feature a Traditional Chinese localization!
2016
December 3 - New trailer and screenshots!
November 23 - PlayStation confirms that Ace Combat 7 will have a playable demo at PlayStation Experience 2016 on December 3-4.
September 18 / June 14 - Kazutoki Kono asks fans to "please wait a little longer" and for their "patience and forgiveness" following Ace Combat 7's absence from this year's Tokyo Game Show and E3.
March 7 - Two official Bandai Namco Facebook pages - for Brasil and Latinoamérica - announce that Ace Combat 7 is releasing in 2016.
January 12 - Another interview with Kazutoki Kono confirms that the game takes place "a few years" after Ace Combat 6 and will only feature jet fighters.
2015
Confirmed Aircraft
Fighters

Multiroles

Attackers

Unknown

Other
---
Click here for the full list and other details!
Ad blocker interference detected!
Wikia is a free-to-use site that makes money from advertising. We have a modified experience for viewers using ad blockers

Wikia is not accessible if you've made further modifications. Remove the custom ad blocker rule(s) and the page will load as expected.