Summary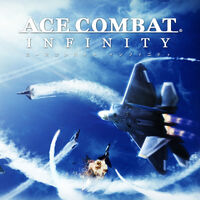 Ace Combat Infinity was one of the latest installments in the Ace Combat franchise. It released exclusively on the PlayStation 3 and was the first free-to-play game in the series. The game's Sortie Fuel system required the use of fuel units to play missions. A small story campaign was available, but the game's focus was on multiplayer. It also featured the largest plane roster in the franchise.
A short Japanese beta took place in November 2013. This preceded a successful Japanese beta in December 2013. A worldwide beta then took place in February 2014. The game released worldwide in May 2014, followed by two years of regular content patches.
In December 2017, Bandai Namco announced
Ace Combat Infinity
would shut down on March 31, 2018. They removed in-game purchases on January 9, 2018. The game was no longer available for download starting on March 1, 2018.
"Thank You" - Farewell Trailer