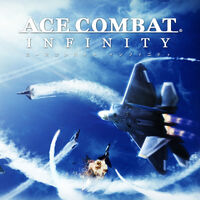 Summary
Ace Combat Infinity is one of the latest Ace Combat installments, available exclusively on the PlayStation 3. It is the first free-to-play game in the series; players are restricted by the Sortie Fuel system, which requires the use of fuel units to play missions. Infinity is a multiplayer-centered game, with the most active players of any multiplayer Ace Combat as well as the largest selection of aircraft in the series.
A short Japan-only beta took place in November 2013, followed by successful Japan-only and worldwide betas in December 2013 and February 2014, respectively. Ace Combat Infinity was fully released worldwide in May 2014, with regular patches for two years to improve gameplay and add new content. It is still available and free to everyone to download through the PlayStation Store.
Infinite Skies Trailer
All Information
---

---

Other Gameplay Modes

---

Other Info
Ad blocker interference detected!
Wikia is a free-to-use site that makes money from advertising. We have a modified experience for viewers using ad blockers

Wikia is not accessible if you've made further modifications. Remove the custom ad blocker rule(s) and the page will load as expected.