R-201 Asterozoa
Talk

0
1,779pages on
this wiki
The R-201 Asterozoa is a dual-seat attacker aircraft manufactured by Neucom Incorporated and the first attacker aircraft of the company's "R-Series".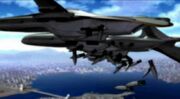 After the success of the R-101, Neucom quickly made a second aircraft geared for ground attack. It was to work alongside the R-101 Delphinus. The R-201 Asterozoa's design had and still is, one of the most 'radical' designs made by Neucom Inc. With its dual-COFFIN, podded design it was thought to be a little out-landish. There also was a speed problem and it was vulnerable to high speed interceptors.
It wasn't until 2045 that the Asterozoa showed that it was an amazing ground attacker, despite its short comings. Along with the R-101, it sold very well. By the middle of the war, it was replaced by the R-211 Orcinus within Neucom control. It continued to operate within the Universal Peace Enforcement Organization as the R-201U.
Ace Combat 3: Electrosphere
Edit
Specifications
Edit
Length: 18.13 m
Wingspan: 20.6 m
Height: 2.9 m
Weight: 25013 kg
Max speed: 1540 km/h
Class: Heavy Attacker
Armaments
Edit
Cannon
Short Range Missiles
Ground Missiles
MIRV Missiles
Statistics
Edit
Power: 10
Attack: 50
Defense: 80
Stability: 80
Mobility: 10
Typical of Neucom fighter designs, the R-201 is named after a marine animal. In this case, Asterozoa is the class name to which all sea stars belong.