S-32
Talk

1
1,779pages on
this wiki
The S-32 was a conceptual fighter aircraft manufactured by the Sukhoi development bureau. It was a paper-only concept airframe of the Su-47 Berkut technology demonstrator, which never materialized as an actual fighter. An "ancestor" of the Berkut, the main differences between both aircraft lie in the S-32's inner-cranked vertical stabilizers, engine design and Sorbtsiya wingtip pods.
Ace Combat 5: The Unsung War
Edit
"A prototype of the Su-47. Despite its outstanding maneuverability, development was discontinued. Its potential as an extraordinary fighter is limited only by the skill of its pilot."
―Menu description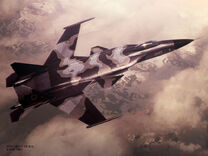 Introduced in
Ace Combat 5: The Unsung War
, the S-32 is an end-game fighter aircraft, which is characterized by its rarity. In the game's campaign mode, eight units are used by
Belkan Federation
members in mission 27+, "
The Unsung War
".
The second aircraft of the Sukhoi prototype family, it is made available for purchase after filling the Kill Rate Gauge of the Su-47 Berkut (129,050 points), and costs 26,200 credits per unit.
As a playable aircraft, the S-32 has a performance somewhat comparable with its successor's-- it fares well in anti-air missions, can endure a fair amount of damage and carries a payload of 82 MSSLs and 14 QAAM. However, the main differences between both lie in its significantly higher maneuverability, weaker powerplants and lower stability, which make it stall at a speed of 194 MPH, as opposed to the Berkut's 155. In general, it is an excellent aircraft for air-to-air combat.
OS: Light brown camouflage.
RZ/Razgriz camouflage.
BK: Brown and white desert camouflage pattern with white and yellow underbelly.
Ace Combat X: Skies of Deception
Edit
S-32
Type(s)

Fighter

Unlocked at

Complete "Offline"

Price

67,100$

Weapons

QAAM / LAGM / ECMP

Users
"A prototype of the Su-47, this aircraft has incredible mobility."
―Menu description.
In Ace Combat X: Skies of Deception, the S-32 is a Fighter-type aircraft fielded by the Leasath Air Force, which makes rare appearances in the single-player campaign. In the game, an ace pilot named "Eliza" controls an S-32 in the end mission "End of Deception I". It is also used by the Alect Squadron in the eponymous mission, "Alect Squadron".
The plane is made available for purchase after finishing mission 14B, "Offline" in a first playthrough. It costs 67,100$ to purchase, less than triple of the original price in Ace Combat 5. Unlike its previous incarnation, this version has generally worse parameters than the Su-47 - it is weaker in both air-to-air and air-to-ground combat. As well, it retains its weaker engine power, and its only notable strength is its superior handling.
This version carries 80 missiles and retains the QAAM as a secondary weapon. In addition, its arsenal has been expanded to include the Electronic Counter Measure Pod (ECMP) for self-defense purposes and the Long-Range Air-to-Ground Missile (LAGM) to complement its ground attack capabilities.
Aurelia: Light brown camouflage.
Leasath: Alect Squadron black.
Special 1: Dark brown desert camouflage.
Special 2: Desert camouflage with shades of black and light brown.
Ace Combat: Joint Assault
Edit
S-32
Type(s)

Fighter

Unlocked at

Complete either mission 3 and 4 or mission 20 in second playthrough

Price

102,800$

Weapons

SAAM / GPB / IRCM / LAGM
The S-32 is featured once more in Ace Combat: Joint Assault. Unlike its two past incarnations, it is never featured in the main campaign mode, be it as an ace or as a normal enemy aircraft.
It will be unlocked in the Hangar menu as a reward for completing either missions 3 and 4 (respectively, the Alpha and Bravo versions of "Red and Black") or mission 20 ("Ghost Hunt") in a New Game+ playthrough. Its acquisition price has been raised to 102,800$ credits, making it the most expensive version of the aircraft.
Since Skies of Deception, its performance and statistics have been downgraded further still: it is beaten by the Su-47 in nearly all parameters, and has an smaller ammunition payload. Its sole advantage over the Berkut is that it has stronger powerplants, reversing the power disadvantage from previous games. Its weapons arsenal has been modified: the ECMP has been replaced by the SirCOMS countermeasure system, and the Guided Penetration Bomb has been included to reinforce its A2G power.
C01: Light brown camouflage. Reused from Ace Combat X.
C02: Razgriz ACS color.
C03: Gray/black jungle pattern.
C04: "Gray Men" camouflage.
C05: Bright red with white tail stripes.
C06: Off-white color.