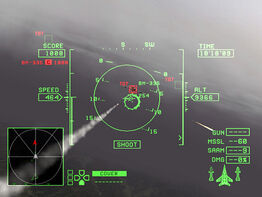 The
Semi-Active Air-to-Air Missile
(
SAAM
) is a long-range air-to-air missile present in most
Ace Combat
games since
Ace Combat 5: The Unsung War
.
Overview
The SAAM utilizes a missile guidance system known as semi-active radar homing. After being selected in flight, a large green reticle appears on the aircraft's Head-up display. After firing the missile at a specific target, the target must be kept inside of the reticle for the missile to continue tracking until it makes impact. This data transfer is what classifies the SAAM as "semi-active," in that it requires a consistent data transfer between itself and the launch aircraft.
One SAAM is powerful enough to destroy most enemy aircraft; as such, it is the weapon of choice for long-range assaults on a single aerial target. SAAMs are best utilized at their maximum range, since the target's angle of evasion is minimal and the risk of counterattack is low. However, the launch aircraft is vulnerable to counterattacks from other aircraft (or even the target aircraft) while it is still transmitting data to the missile. In one example, the target aircraft or other pilots in the same flight could be equipped with missiles that have an equal range to the SAAM, and are free to counterattack (and sometimes perform maneuvers if their long-range missiles are fully guided rather than semi-active).
Game Analysis
Trivia
The SAAM combines the range and damage of the Advanced Long-Range Air-to-Air Missile with the maneuverability of the Quick Maneuver Air-to-Air Missile.
After firing an SAAM, if the target leaves the reticle, the player can position themselves to have the target back inside the reticle once more, and the missile will continue its tracking from where it left off if not too much time has elapsed.

If multiple SAAMs are launched separately at different vectors, and the player then focuses the targeting reticle on one target, all of the SAAMs will speed towards that target at their different angles.

The F-20A Tigershark, F-14A Tomcat, and F-15C Eagle utilize the AIM-7 Sparrow as their SAAM. The Mirage 2000 uses the Super 530D, the MiG-31 Foxhound uses the R-40R, and the Su-27 Flanker and Su-47 Berkut use the R-27RE.
In the real world MiG-31 can not use radar guided missiles R-40R, only infrared guided missiles R-40TD.
References