Single-stage-to-orbit
Talk

0
1,862pages on
this wiki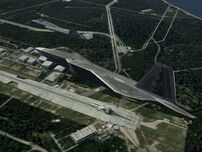 A
single-stage-to-orbit
(SSTO) craft is an space vehicle that enters the atmosphere of a planet without the use of staging, entering the atmosphere without ejecting parts of itself, unlike most vehicles of the type. Currently, no such spacecraft have been developed, remaining limited to studies and proposals.
SSTO vehicles were produced to an unknown extent in the Strangereal world. One such vehicle was owned by the Osean Federation, which was used by the Basset Space Center.
In late 2010, Basset carried out preparations to launch the SSTO to ferry a laser weapon module to the Arkbird spacecraft using the facility's mass driver. Scheduled for October 3, the launch was nearly averted when Yuktobanian forces attacked the space center to destroy the mass driver, but the SSTO launched safely, later docking with the Arkbird in space.