Su-33 -CRIMSON WING-
Talk

0
1,779pages on
this wiki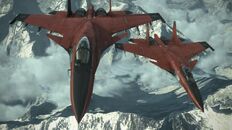 The
Su-33 -CRIMSON WING-
is a downloadable aircraft in
Ace Combat 6: Fires of Liberation
. It was released in February 28th 2008 with Pack 05, costing ¤200 MSP to download.
This particular Su-33 Flanker-D, as with all other aircraft in this "line" has been specially customized for airshows. It is painted with a crimson coating, while the nose, wingtips and ends of the tailplane are painted black. As well, the smoke trails of all fired projectiles are colored red.
The aircraft has been given a massive performance upgrade. Air-to-air and air-to-ground have been upgraded to their zenith, while all other stats remain untouched. Missile capacity has been increased fivefold to 800; in the other hand, the reload rate has been maximized.