Su-33 -THE IDOLMASTER MIKI-
Talk

0
1,780pages on
this wiki
"IDOLMASTER, Miki Hoshii Aircraft. An extremely stable, yet otherwise remarkably average aircraft with few outstanding qualities. While capable, it could be great if it only tried a little harder."
―Official description
The Su-33 Flanker-D "THE IDOLMASTER Miki- is a downloadable aircraft in Ace Combat 6: Fires of Liberation and Ace Combat: Assault Horizon.
Ace Combat 6: Fires of Liberation
Edit
"First to debut is Miki Hoshii. The world can't wait to see what talents this future star has hiding under her wings."
―Xbox Marketplace description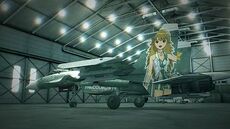 The Su-33 THE IDOLMASTER Miki is the first aircraft of the
iDOLM@STER aircraft series
. It was released in November 22, 2007 with DLC PACK #02 at the cost of 400 MSP. The Miki aircraft is outfitted with a lime green and white coating, displaying Hoshii's likeness in the outer side of the left tailfin. A first in the series, the aircraft's projectiles now emit green colored smoke trails.
In performance, the IDOLMASTER Flanker receives a significant upgrade to its air-to-ground and stability parameters, thus enhancing its ground combat capabilities. In exchange for this upgrade, the Flanker's armor and speed are reduced. In terms of weapons capacity, the QAAM and Rocket Launcher's total ammunition is given a large increase, while that of basic missiles and the XMA4's are, strangely, reduced by a single point.
The Miki Su-33 has a successor in the form of the Su-47 -THE IDOLMASTER MIKI-EX-.
Ace Combat: Assault Horizon
Edit
The Su-33 "THE IDOLM@STER" was released to the market in November 29, 2011 with DLC Pack 04 at the price of 4.99$ or 400 MSP. It is one of the only (to date) iDOLM@STER aircraft in the game, the other two being the F-15E -THE IDOLMASTER CHIHAYA- and the F-22A -THE IDOLMASTER HARUKA-. All aircraft can be downloaded simultaneously in the "IDOLM@STER 3-Pack" bundle, which costs 800 MSP or 9.99$.
Two variants of the aircraft exist: the basic version and a low visibility, "monotone" version. Unlike in Fires of Liberation, neither version affects aircraft performance in any way.